Popular in the south of France, Nicoise Salad is typically served with tuna and a variety of cooked and raw ingredients. Substitute with sardines, and this classic salad immediately becomes Candida diet friendly. Prepare for yourself, or multiply the ingredients when serving guests.
Sardines are a healthier choice than tuna because they have a much lower toxic load. Larger fish, such as tuna and swordfish, have long times and spend years accumulating heavy metals and other ocean-borne toxins. Smaller fish like sardines have much less exposure, and that's why they are on the list of foods to eat.
This salad is super-easy to prepare, highly nutritious, and very filling. It's full of healthy proteins, oils and a variety of healthy vegetables. You'll find that it's perfect for a summer lunch, a light supper, or when you just want to treat yourself to something special.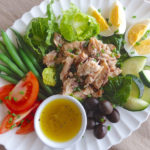 Sardine Nicoise Salad
Ingredients
INGREDIENTS FOR NICOISE SALAD
2

cups

water

¼

tsp.

salt

2

ounces

fresh greens beans, stem end trimmed

1

4-ounce

can of boneless, skinless, sardines, drained

2 to 3

Romaine lettuce leaves, cut into bite size pieces

½

tomato, quartered

1

hard boiled egg, quartered

¼

cup

black olives, packed only in water and salt

¼

cup

cucumber slices, cut into half moons

Fresh herbs such as oregano and chives, finely minced

Salt and pepper to taste
INGREDIENTS FOR THE ANCHOVY VINAIGRETTE
2

Tbsp.

fresh lemon juice

6

Tbsp.

extra virgin olive oil

2

anchovy fillets, finely minced

Salt and pepper to taste
Instructions
In a small saucepan, bring water and salt to a boil and blanch green beans just until bright green and tender crisp, about 2 minutes. Drain green beans and rinse under cold water for 1 to 2 minutes.

Put the vinaigrette ingredients into a container with a lid, shake well. Refrigerate unused portion.

Arrange around a platter in separate mounds, the tomatoes, green beans, lettuce, hard boiled egg, cucumbers and olives. Place sardines in the middle of the platter and garnish with fresh herbs. Drizzle salad with the Anchovy Vinaigrette and season with salt and pepper to taste.
Are you looking for more gluten-free, sugar-free recipes? Following the Candida diet can be challenging if you're not familiar with this type of cooking.  Luckily, Dr Eric Wood and I created the Ultimate Candida Diet program, which contains more than 100 delicious recipes that are perfect for the Candida diet. Find out more here.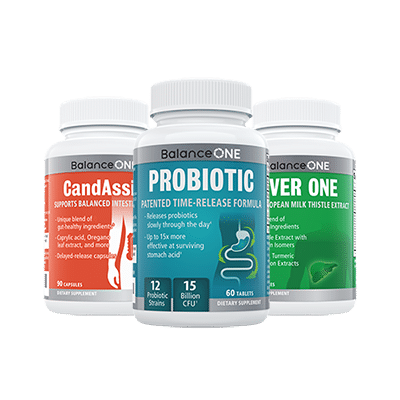 3-Month Candida Elimination Kit
Start Your 3-month Candida Cleanse
This Candida Kit contains all the supplements recommended on the Candida Diet:
- LIVER ONE to process and remove the toxins created by Candida.
- CANDASSIST to inhibit and weaken the Candida colonies in your gut.
- PROBIOTIC to replace the Candida yeast with probiotic bacteria.
Plus... the CANDIDA DIET RECIPE BOOK with 50+ low-sugar recipes
Comments