Our recipe for Salmon Stew makes a warming and flavorful winter meal.
With ingredients like salmon, red and yellow peppers, tomatoes and coconut milk, it is not your typical stew. It is fresher, brighter and altogether healthier, a light recipe that is still comfort food. As with all our recipes, it is free of added sugars and gluten.
The salmon cooks in a rich, deeply flavored sauce that has a touch of sweetness from the coconut milk and a slight tang from the fresh lime juice. Added aromatics like garlic, paprika, coriander and red pepper flakes create a delicious one pan dish.
Try to find wild salmon if you can. It's much more nutritious than the farmed variety.
As with most stews, this dish will taste even better the next day, as the flavors continue to develop. Simply reheat the stew over medium low heat.
Free Guide To Beating Candida
Sign up to our free, 8-part email course today, and learn how to create your own, personalized Candida treatment plan :)
A comforting bowl of brothy stew is always a good idea on a cold evening. Enjoy Salmon Stew with toasted slices of our coconut bread or ladled over a side portion of quinoa.
Salmon Stew
Ingredients
1

Tbsp.

oil, such as coconut or olive

1/2

cup

finely minced onion

1/2

cup

each red and yellow pepper, cut into 1 inch squares

2

garlic cloves, finely minced

1

tsp.

paprika

1

tsp.

ground coriander

1/4

tsp.

red pepper flakes

15

oz.

(1 can) of unsweetened coconut milk

8

oz.

skinless salmon filet, cut into 2 inch pieces

1

Tbsp.

fresh lime juice

Salt and pepper to taste

1

tomato, cut into wedges

Finely minced fresh cilantro and lime wedges for garnish
Instructions
Heat the oil in a large covered skillet or Dutch oven over medium heat. Add the finely minced onions and a pinch of salt, then sauté for about 5 minutes.

Next add the red and yellow peppers and finely minced garlic, then sauté for about 3 minutes.

Finally add the paprika, ground coriander and red pepper flakes. Sauté until spices are fragrant, about 1 minute.

Add the unsweetened coconut milk to the vegetable mixture and bring to a boil over medium high heat. Add the salmon pieces, then lower the heat to medium low and simmer, covered, until the salmon has cooked through, about 6 to 8 minutes.

Stir in the fresh lime juice and season with salt and pepper to taste. Garnish the stew with the tomato wedges and finely minced fresh cilantro. Serve with lime wedges.
A tasty salmon stew is just perfect for the Candida diet. It's gluten-free, very nutritious, and free of added sugars. Our Ultimate Candida Diet program contains more than 100 gluten-free, sugar-free recipes just like this, plus lots of valuable advice on symptoms, treatment options, and more. Find out more here.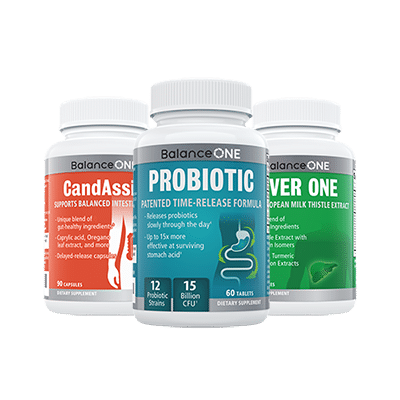 3-Month Candida Elimination Kit
Start Your 3-month Candida Cleanse
This Candida Kit contains all the supplements recommended on the Candida Diet:
- LIVER ONE to process and remove the toxins created by Candida.
- CANDASSIST to inhibit and weaken the Candida colonies in your gut.
- PROBIOTIC to replace the Candida yeast with probiotic bacteria.
Plus... the CANDIDA DIET RECIPE BOOK with 50+ low-sugar recipes