Tasty Salmon Bowl With Arugula Dressing
Meals in a bowl have become quite popular, perhaps as a response to our busy lives. On days when you're too tired to cook, you still need to eat! These bowls provide something simple and satisfying, hearty and filling – everything you need in just one bowl.
They are easy to prepare in just a few steps, without skimping on important nutrition. And they're flexible too. You could easily switch out some of the vegetables for whatever you have in your fridge.
This Salmon Bowl with Arugula Dressing is loaded with Candida-fighting super foods – salmon and quinoa, greens, vegetables, berries (as an optional 'maybe' food) and seeds. A beautiful feast in a bowl which can easily be doubled or tripled for more than one serving.
Quinoa is a really helpful addition to your Candida diet. It's an almost complete source of protein, it's totally gluten-free, and it will raise your blood sugar much less than a bowl of rice. Having said that, you should still aim for your plate to be mostly vegetables and a small amount of quinoa, rather than the other way around!
Salmon Bowl with Arugula Dressing
Ingredients
Salmon Bowl
1

4-ounce

salmon fillet

1/4

teaspoon

dried sage

Salt and pepper to taste

1

tablespoon

oil, olive or coconut, melted

2

cups

water

1/4

teaspoon

salt

2

ounces

fresh green beans, stem end trimmed

1/2

cup

cooked tricolor quinoa

1

cup

arugula, packed

2

ounces

yellow pepper, thinly sliced lengthwise

Blueberries (optional 'maybe' food)

Pumpkin seeds
Arugula Dressing
2

cups

arugula, packed

1

clove

garlic, minced

1 1/2

tablespoons

fresh lemon juice or apple cider vinegar

1/4

cup

olive oil

Salt and pepper to taste
Instructions
Salmon Bowl
Heat oven to 400 degrees F (205 degrees C). Place salmon fillet, skin side down, on a rimmed baking sheet drizzled with oil. Season with dried sage, salt and pepper and roast until just cooked through, about 12 minutes. Remove salmon filet from oven, set aside.

In a small saucepan, bring water and salt to a boil. Add green beans and blanch just until bright green and tender crisp, about 2 minutes. Drain green beans and rinse under cold water for 1 to 2 minutes, set aside.

To assemble bowl, first add arugula and cooked tricolor quinoa, then top with roasted salmon filet. Next add green beans and sliced yellow pepper to the side, then drizzle with Arugula Dressing (see recipe below). Finally garnish bowl with a few blueberries (optional 'maybe' food) and pumpkin seeds.
Arugula Dressing
In the bowl of a food processor, add arugula and minced garlic and pulse until finely chopped. Add lemon juice or apple cider vinegar and process until smooth. With the food processor running, drizzle in olive oil to make a smooth dressing. If necessary, thin with a bit of water to desired consistency.

Season with salt and pepper to taste. Refrigerate unused portion.
Our Candida program contains more than 100 recipes that are suitable for the Candida diet. They cover every meal, every stage of the treatment plan, and they are all completely gluten-free and free of added sugars. Check it out!
Free Guide To Beating Candida
Sign up to our free, 8-part email course today, and learn how to create your own, personalized Candida treatment plan :)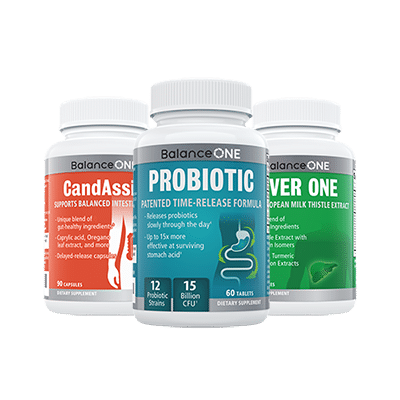 3-Month Candida Elimination Kit
Start Your 3-month Candida Cleanse
This Candida Kit contains all the supplements recommended on the Candida Diet:
- LIVER ONE to process and remove the toxins created by Candida.
- CANDASSIST to inhibit and weaken the Candida colonies in your gut.
- PROBIOTIC to replace the Candida yeast with probiotic bacteria.
Plus... the CANDIDA DIET RECIPE BOOK with 50+ low-sugar recipes