Rutabaga and Onion Gratin
Often times the favorite parts of a special meal are the side dishes. This healthier take on a vegetable gratin, replacing potato with rutabaga, is just that kind of a dish.
This rutabaga and onion gratin is comforting and rich, with the addition of unsweetened coconut milk instead of regular cream. It would be delicious served alongside roast turkey, chicken or grilled salmon for a special dinner or family get-together.
If you live outside North America and are wondering what rutabaga is, you might know it better as Swede! It's a starchy vegetable that has some potent antifungal properties. As such, it's generally better for maintaining a healthy and balanced gut than most other starchy vegetables.
Similarly, the canned coconut milk contains a fatty acid named lauric acid. This is converted by the body into monolaurin, which aids in fighting pathogenic bacteria, viruses and fungi. It's an excellent choice for maintaining healthy immunity and digestion.
If you wish, you can sweeten this gratin a little by layering in some green apple alongside the rutabaga and onion. This gratin is very easy to make, requires little preparation, and makes a filling, tasty side dish for all the family to enjoy 🙂
Free Guide To Beating Candida
Sign up to our free, 8-part email course today, and learn how to create your own, personalized Candida treatment plan :)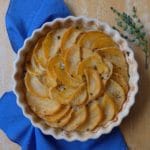 Rutabaga and Onion Gratin
Course:
Main Course, Side Dish
Ingredients
1

large rutabaga (about 1 lb.), peeled

1

medium onion, peeled

1

cup

canned, unsweetened coconut milk

Salt

Pepper

2

tsp.

fresh thyme leaves, divided
Instructions
Preheat oven to 350 degrees F ( 176 degrees C ).

Halve the peeled rutabaga and onion horizontally. Then slice each into thin, half moon slices.

Brush a 9 inch round or square oven proof baking dish with a bit of oil.

Evenly scatter half of the onion slices on the bottom of the dish, season with a bit of salt and pepper. Then arrange half of the rutabaga slices in an overlapping pattern on top of the onion slices. Season with salt and pepper and scatter over a teaspoon of fresh thyme leaves. Repeat process with remaining ingredients.

Firmly compress the layered vegetables into the dish, then pour over the coconut milk.

Tightly cover dish with a sheet of foil. Place covered dish on a baking sheet and bake for 1 hour.

Remove dish from oven and carefully remove foil. Return dish to oven and bake gratin for another 30 minutes or until rutabaga slices are fork tender and top is bubbling and brown.
Our Ultimate Candida Diet program contains more than 100 gluten-free, sugar-free recipes just like this. It has sections for main dishes, desserts, drinks, and more. Plus there's lots of valuable advice on symptoms, treatment options, and more. Find out more here.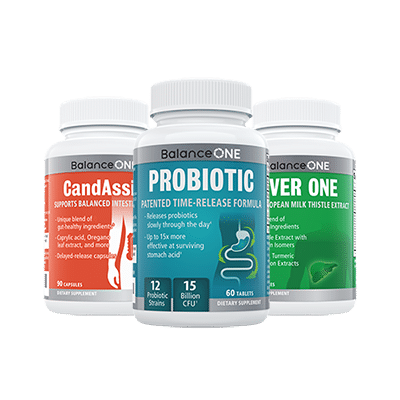 3-Month Candida Elimination Kit
Start Your 3-month Candida Cleanse
This Candida Kit contains all the supplements recommended on the Candida Diet:
- LIVER ONE to process and remove the toxins created by Candida.
- CANDASSIST to inhibit and weaken the Candida colonies in your gut.
- PROBIOTIC to replace the Candida yeast with probiotic bacteria.
Plus... the CANDIDA DIET RECIPE BOOK with 50+ low-sugar recipes
Comments