Roasted Chicken with Vegetables
Here's a simple roasted chicken recipe that contains lots of healthy vegetables and plenty of delicious herbs and spices. It's filling, satisfying, and perfect for an evening meal. It has a short prep time but a longer cook time – you can get it started straight after work and have it ready for dinner time.
Several of these ingredients (for example the rutabaga, garlic, onion, and olive oil) are Candida-fighting foods too. Try to incorporate these antifungal foods into your meals wherever possible. They will help to inhibit any Candida colonies in your gut and get you closer to a healthy balance in your intestinal flora.
The seasoning mix that I have used in this recipe is very versatile, and can be used on all kinds of meat, fish and vegetables from the foods to eat list. When you buy herbs, make sure to avoid the really cheap, irradiated brands that are imported from China. When it comes to herbs and spices, you really get what you pay for. I hope you enjoy the recipe!
Roasted Chicken with Vegetables
Ingredients
INGREDIENTS FOR ROASTED CHICKEN
1

onion, cut into 8 wedges

1

fennel bulb, trimmed, halved and cut into ½ inch slices

1

yellow pepper, cut into ½ inch thick strips

1

rutabaga, peeled, halved and cut into ½ inch slices

1

chicken, cut into 8 pieces

2

Tbsp.

seasoning mix (see below)

2

Tbsp.

olive oil

1

lemon, cut into ¼ inch slices

6

cloves

garlic, peeled and thinly sliced

½

cup

black olives (packed in water)

1

bunch fresh thyme sprigs

1

cup

homemade broth, chicken or vegetable
SEASONING MIX
1

Tbsp.

paprika

1

tsp.

garlic powder

1

tsp.

onion powder

1 ½

tsp.

salt

½

tsp.

black pepper

1

tsp.

dried rosemary

1

tsp.

dried oregano

½

tsp.

cayenne
Instructions
To make the seasoning mix, simply combine all ingredients in a jar. Put a lid on the jar, then shake well until mixed.

Preheat oven to 425 degrees F (218 degrees C).

Spread onion, fennel, yellow pepper and rutabaga slices evenly in the bottom of a large roasting pan, creating a bed. Arrange chicken pieces on top of vegetables, sprinkle with seasoning mix (see below), then drizzle with olive oil. Lay lemon slices on top of chicken pieces, scatter sliced garlic and black olives into pan and tuck in a few fresh thyme sprigs. Finally, pour broth into the pan.

Roast chicken for 15 minutes at 425 degrees F (218 degrees C), remove from oven, baste with pan juices. Reduce temperature to 375 degrees F (191 degrees C), return chicken to oven. Roast chicken for about an hour more, until juices run clear and temperature reaches 165 degrees F (74 degrees C) in the thickest portion of the chicken. Let rest 10 minutes before serving. Garnish with sprigs of fresh thyme.
Satisfying meals like this are great for when you want a filling, wholesome dinner on the Candida diet. Our Ultimate Candida Diet program is packed full of gluten-free, sugar-free recipes just like like this. It contains more than 100 recipes in total, and they're all perfect for the Candida diet. Find out more here.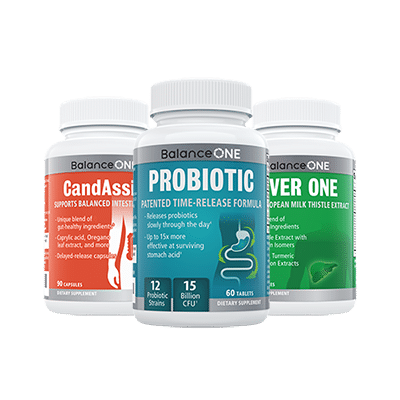 3-Month Candida Elimination Kit
Start Your 3-month Candida Cleanse
This Candida Kit contains all the supplements recommended on the Candida Diet:
- LIVER ONE to process and remove the toxins created by Candida.
- CANDASSIST to inhibit and weaken the Candida colonies in your gut.
- PROBIOTIC to replace the Candida yeast with probiotic bacteria.
Plus... the CANDIDA DIET RECIPE BOOK with 50+ low-sugar recipes
Comments