Found seasonally at your local farmers market, rhubarb is a truly special ingredient. It is a vegetable, but it is often used as a fruit in baked goods and desserts. These Rhubarb Muffins are a delicious example!
Although rhubarb leaves should not be eaten, the edible stalks have a vivid pink color and distinctively tangy taste. Look for dark pink to red stalks which are sweeter and have a more intense flavor. Whether market-fresh or frozen from the grocery store, both kinds of rhubarb can be used with equally delicious results. If using frozen rhubarb, be sure to thaw it out completely, then squeeze out the excess liquid before using it in your recipes.
Our tangy, lightly sweet rhubarb muffins are hard to resist. They are made with Candida Diet friendly flours like quinoa, psyllium husk, and buckwheat. They include antifungal ingredients like coconut oil to promote healthy digestion, as well as gut-friendly probiotic yogurt. They're an excellent source of protein, fiber, and healthy fats.
These muffins are studded with tangy, fresh rhubarb, while the cinnamon adds a sweet, fragrant flavor and makes them perfect for a healthy snack or grab-and-go breakfast.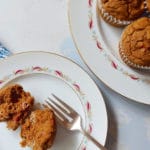 Rhubarb Muffins
Ingredients
1

cup

quinoa flour

1

cup

light buckwheat flour

1

tsp.

psyllium husk powder

1

tsp.

cinnamon

1/2

tsp.

salt

1

tsp.

baking powder

1

tsp.

baking soda

2

eggs

1

cup

unsweetened plain yogurt

1/4

cup

oil, light olive or coconut, melted

3/4

cup

almond milk or non dairy milk of your choice

1

Tbsp.

alcohol free vanilla

1

Tbsp.

powdered stevia

1 1/2

cups

fresh rhubarb, ends trimmed, cut into 1/2 inch pieces
Instructions
Preheat oven to 350 degrees F (175 degrees C). Line a 12 cup muffin pan with paper liners, set aside.

In a large bowl, add quinoa flour, light buckwheat flour, psyllium husk powder, cinnamon, salt, baking powder and baking soda, whisk to combine, set aside.

In a another large bowl, add eggs, unsweetened plain yogurt, oil, milk, vanilla and powdered stevia, whisk to combine.

Add the wet ingredients to the dry ingredients and stir until well combined. Gently fold in the rhubarb pieces.

Spoon muffin batter into the prepared pan and bake 20 minutes or when the tops feel firm when lightly touched. Cool, serve.
These muffins are a tasty, seasonal dish that will do wonders for your gut health. Our Ultimate Candida Diet program contains more than 100 gluten-free, sugar-free recipes just like this one, plus plenty of valuable advice on symptoms, treatment options, and more. You can find out more here.
Free Guide To Beating Candida
Sign up to our free, 8-part email course today, and learn how to create your own, personalized Candida treatment plan :)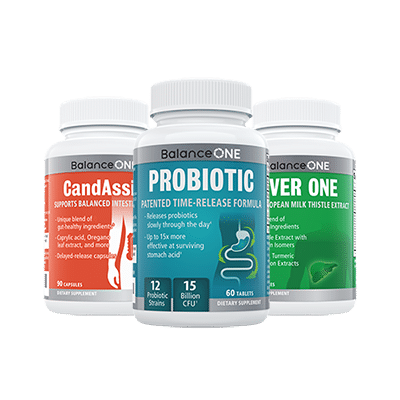 3-Month Candida Elimination Kit
Start Your 3-month Candida Cleanse
This Candida Kit contains all the supplements recommended on the Candida Diet:
- LIVER ONE to process and remove the toxins created by Candida.
- CANDASSIST to inhibit and weaken the Candida colonies in your gut.
- PROBIOTIC to replace the Candida yeast with probiotic bacteria.
Plus... the CANDIDA DIET RECIPE BOOK with 50+ low-sugar recipes
Comments