Red Pepper Dip (Muhammara)
Muhammara is a tasty dish that originates in Syria. Why not introduce a taste of the Middle East into your next dinner party or family gathering?
Muhammara is usually sweetened with pomegranate molasses, which would place it on the foods to avoid list. However, this more savory version has no added sugar or sweeteners and is suitable for a Candida diet plan.
It also contains foods like olive oil and garlic, which have antifungal properties and can help promote a healthy, balanced gut flora.
You can serve this dip with some sliced vegetables, or a gluten-free cracker like my sesame cauliflower rounds. The combination of the walnuts, cayenne, and cumin give it a delicious rounded flavor that is probably unlike any dish you've tried before. Let me know what you think!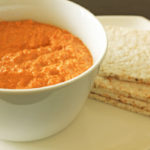 Red Pepper Dip (Muhammara)
Ingredients
3

red peppers

1

small red onion

¾

cup

walnuts

1-2

garlic cloves

¼

cup

olive oil

¼

tsp.

cayenne pepper

¼

tsp.

cumin

Juice of ½ lemon

Salt to taste
Instructions
For gas stoves, place the whole peppers directly on burners, flipping them with tongs until they are black all over. Or if you use an oven, roast the peppers for 10-12 minutes at 350 degrees F on a greased baking tray, turning approximately every 4 minutes.

When finished, peel off the skin from the peppers and remove the seeds and stem.

Chop and saute the onions for 3-5 minutes.

Now add all ingredients to the food processor.

Serve with quinoa crackers or sliced vegetables for dipping.
My Ultimate Candida Diet program includes more than 100 tasty recipes for every meal and every stage of the Candida diet. They are gluten-free, sugar-free, and absolutely delicious! Dr Wood and I have also included lots of valuable advice on how to beat Candida, and which foods to eat and avoid.
Free Guide To Beating Candida
Sign up to our free, 8-part email course today, and learn how to create your own, personalized Candida treatment plan :)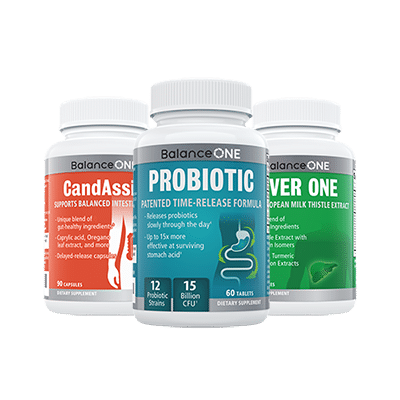 3-Month Candida Elimination Kit
Start Your 3-month Candida Cleanse
This Candida Kit contains all the supplements recommended on the Candida Diet:
- LIVER ONE to process and remove the toxins created by Candida.
- CANDASSIST to inhibit and weaken the Candida colonies in your gut.
- PROBIOTIC to replace the Candida yeast with probiotic bacteria.
Plus... the CANDIDA DIET RECIPE BOOK with 50+ low-sugar recipes
Comments