Quinoa and Rutabaga Patties
You might not think that quinoa and rutabaga is the most obvious combination, but I'm here to tell you that these quinoa/rutabaga patties are absolutely delicious!
Serve them with a plain yogurt garnish or dip, and you will definitely be coming back for more. They're a great choice for an easy midweek dinner, and they're really filling and satisfying.
As you know, rutabaga actually has some fairly powerful antifungal properties all by itself, and this recipe also includes other antifungals like turmeric, garlic, and coconut oil. If you make the effort to include lots of antifungal foods in your diet, your recovery from Candida overgrowth can be much faster.
Another important ingredient is quinoa. This pseudo-grain is just as satisfying as any regular grain, but is completely gluten-free, a great source of protein, and won't lift your blood sugar like other grains can. Mixing it with rutabaga makes for a satisfying, filling meal that will be sure to please!
Quinoa and Rutabaga Patties
Ingredients
1

cup

quinoa, cooked (1/3 cup dry)

1

cup

rutabaga, grated

1/4

cup

shallot, finely diced

1

clove

garlic, minced

1/4

cup

fresh chives, finely minced

1/4

cup

fresh parsley, finely minced

2

eggs, lightly beaten

1/2

tsp.

turmeric

1/2

tsp.

salt

1/4

tsp.

pepper, freshly ground

2

Tbsp.

olive or coconut oil

Plain yogurt and fresh, minced parsley or chives for a garnish
Instructions
Preheat oven to 400 degrees F (205 degrees C).

In a large bowl, add cooked quinoa, rutabaga, shallot, parsley, chives, garlic, eggs, turmeric, salt and pepper, stir to combine thoroughly.

Brush a rimmed baking sheet with oil, such as olive or coconut. Using a 1/4 measuring cup, scoop mounds of patty mixture onto baking sheet and flatten patties with the back of a fork to a thickness of 1 inch. Bake patties for 10 minutes, flip gently to other side, bake for another 10 minutes.

Serve plain or with a garnish of plain yogurt and fresh, minced herbs.
My Ultimate Candida Diet program contains more than 100 tasty recipes for every meal and every stage of the Candida diet. They are gluten-free, sugar-free, and absolutely delicious! Dr Wood and I have also included lots of valuable advice on how to beat Candida, and which foods to eat and avoid.
Free Guide To Beating Candida
Sign up to our free, 8-part email course today, and learn how to create your own, personalized Candida treatment plan :)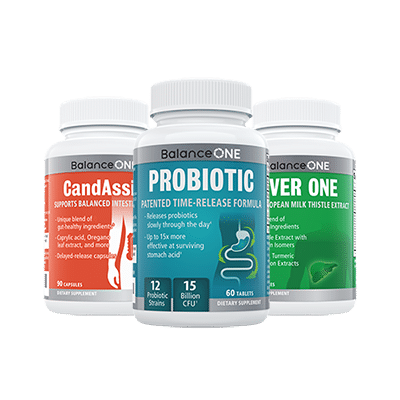 3-Month Candida Elimination Kit
Start Your 3-month Candida Cleanse
This Candida Kit contains all the supplements recommended on the Candida Diet:
- LIVER ONE to process and remove the toxins created by Candida.
- CANDASSIST to inhibit and weaken the Candida colonies in your gut.
- PROBIOTIC to replace the Candida yeast with probiotic bacteria.
Plus... the CANDIDA DIET RECIPE BOOK with 50+ low-sugar recipes
Comments