Parchment Baked Lemon Salmon & Vegetables
The unique presentation of this dish also happens to be its cooking method! Wrapping fish in a parchment package, or "en papillote", along with vegetables and herbs creates a delicately steamed, perfectly moist and aromatic main dish. Quick and easy, it's a great way to get maximum flavor with minimal preparation.
Our recipe for Parchment Baked Salmon combines a heart healthy salmon filet, rich in omega 3 fatty acids, with julienned zucchini, scallions and tangy lemon zest. If you don't have fresh dill for a final garnish, feel free to use any fresh herb you have on hand. You can also vary the vegetables depending on your taste or what's in season.
This dish contains lots of healthy fats from the salmon and olive oil, and protein from the salmon. The vegetables add a healthy portion of fiber. It's a delicious Candida diet recipe to lower inflammation and improve your digestion.
You can find parchment paper in most grocery and kitchen supply stores. Using it in cooking, and baking, allows for easy cleanup, simplifying your time in the kitchen. Parchment paper will soon become a staple in your pantry!
Simple flavors and easy preparation make this a nice choice when you want to treat yourself to a special meal without all the fuss. And the folded pattern of the parchment package makes an attractive presentation, perfect for a dinner party.
Free Guide To Beating Candida
Sign up to our free, 8-part email course today, and learn how to create your own, personalized Candida treatment plan :)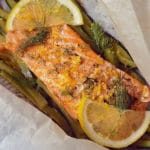 Parchment Baked Lemon Salmon & Vegetables
Ingredients
1

small zucchini, julienne sliced

1

scallion, julienne sliced

1

boneless, skinless salmon fillet, about 4 ounces

Salt and pepper

1

tsp.

lemon zest, divided

2

tsp.

extra-virgin olive oil, divided

Fresh lemon slices

Fresh dill
Instructions
Preheat oven to 400 degrees.

Take a piece of parchment paper, about 12 x 15 inches, and fold the long side in half. Form a crease, then open out flat.

Arrange julienne sliced zucchini and green onion in the middle on one side of the crease. Sprinkle vegetables with a bit of salt and pepper, and half of the lemon zest, then drizzle all over with half of the olive oil.

Lay salmon fillet on top of vegetables. Season it with salt, pepper, and the remaining lemon zest and olive oil.

Now fold the parchment over to cover ingredients. Starting at the bottom folded corner, begin folding the edges of the parchment together, making small overlapping folds every 1 to 2 inches. Continue folding all the way around to create a half moon shaped package. Fold the ends again to make sure they are sealed.

Place parchment package on a baking sheet and bake until package has puffed, about 12 to 15 minutes. Transfer package to a plate, open and serve immediately. Garnish with fresh lemon slices and fresh dill.
There are so many tasty meals that you can make on the Candida diet. You can find more than 100 delicious recipes, just like this one, in the Ultimate Candida Diet program, which I created with Dr Eric Wood. There's lots of advice on foods to eat and avoid, as well as which supplements can help to fight your Candida.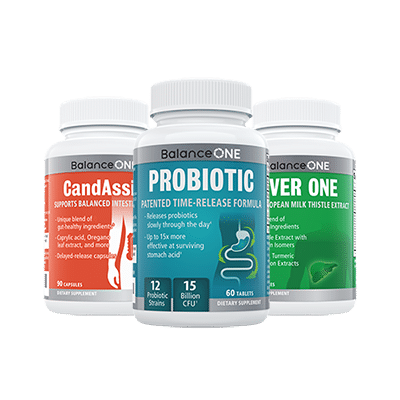 3-Month Candida Elimination Kit
Start Your 3-month Candida Cleanse
This Candida Kit contains all the supplements recommended on the Candida Diet:
- LIVER ONE to process and remove the toxins created by Candida.
- CANDASSIST to inhibit and weaken the Candida colonies in your gut.
- PROBIOTIC to replace the Candida yeast with probiotic bacteria.
Plus... the CANDIDA DIET RECIPE BOOK with 50+ low-sugar recipes
Comments