Artichokes are a superfood that contain polyphenols, disease-fighting compounds, antioxidants, vitamins C and K, magnesium, potassium, and folate. They are elegant yet so simple to prepare. So along with being healthful, they make a beautiful appetizer for guests or a special vegetable side for a family dinner.
Choosing the right artichokes is the most important step in this recipe. Look for artichokes that are firm and have a tight leaf formation. Leaves should "squeak" when you press the leaves together in your hands. Also purchase artichokes with a stem attached – this is another sign of freshness.
If you haven't tried roasted artichokes before, you're in for a treat! Simply peel off a leaf, dip it in the sauce, and use your teeth to scrape off the juicy 'meat' from the lower end of the leaf. They make for a deliciously addictive treat that will keep you coming back for more!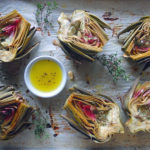 Oven Roasted Artichokes with Lemon and Olive Oil Dipping Sauce
Ingredients
1

lemon, juiced

3

artichokes

6

tsp.

and 3 Tbsp. olive oil, divided

2

cloves

of garlic, thinly sliced

Salt and pepper to taste

Fresh herbs, such as thyme, oregano or parsley, finely minced
Instructions
Preheat oven to 400 degrees F ( 200 degrees C). Line a rimmed baking sheet with parchment paper, set aside. Place the juice of one lemon into a shallow dish, set aside.

Working with one artichoke at a time, begin by trimming one inch off the top of the artichoke. Cut a half inch off the stem end, then peel stem leaving only the tender inner stem. Remove any lower, discolored leaves. Cut artichoke in half lengthwise and scoop out the choke, the fuzzy center, with a spoon. Dip cut side of artichoke halves in lemon juice to keep from browning. Repeat process with remaining artichoke halves. Save remaining lemon juice for dipping sauce.

Place artichoke halves on lined baking sheet, cut side up. Drizzle each half with a teaspoon of olive oil, sprinkle with salt and pepper. Place a few garlic slices in the center of each artichoke half, scatter over with fresh minced herbs. Turn halves over so the cut side is on the pan. Roast artichokes for 30 to 35 minutes.

While artichokes are roasting, make the dipping sauce by whisking together reserved lemon juice and 3 tablespoons olive oil. Season with salt and pepper to taste.

Remove artichokes for oven, transfer to platter, serve with dipping sauce.
Looking for more gluten-free, sugar-free recipes? My Ultimate Candida Diet program contains more than 100 delicious recipes, plus lots of valuable advice on which foods to eat and avoid. Find out more here.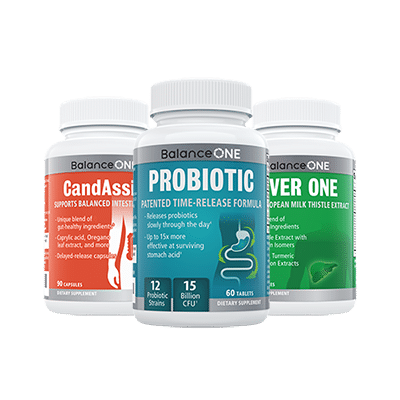 3-Month Candida Elimination Kit
Start Your 3-month Candida Cleanse
This Candida Kit contains all the supplements recommended on the Candida Diet:
- LIVER ONE to process and remove the toxins created by Candida.
- CANDASSIST to inhibit and weaken the Candida colonies in your gut.
- PROBIOTIC to replace the Candida yeast with probiotic bacteria.
Plus... the CANDIDA DIET RECIPE BOOK with 50+ low-sugar recipes
Comments