The appeal of a stir fry meal is that it is simple and quick to prepare, but the speediness of the dish doesn't compromise the flavor. It is also really flexible – you can include almost any vegetable that's sitting in your fridge.
This recipe is inspired by traditional stir fries but adds a Moroccan twist. It uses the smokey, aromatic spices and fresh flavors of citrus and herbs that are commonly found in Moroccan cuisine.
All the ingredients in this recipe are suitable for the Candida Diet. You'll notice that it's packed full of vegetables, herbs, and spices. These are all rich in valuable micronutrients, will help to support a health gut flora, and will promote good digestion too.
Prepping the vegetables ahead of time will help you get dinner on the table in no time. This stir fry is satisfying on its own, or can be served with quinoa for a heartier meal. It's a great meal for when you're feeling burned out and need a good, solid hit of vegetables to lift your energy levels and get you back on track.
Moroccan Stir Fry
Ingredients
1/2

cup

minced onion

1

clove

garlic, thinly sliced

1

lb

ground turkey

1

tsp.

allspice

2

tsp.

cumin

1

tsp.

salt

Pinch

of pepper

2

cups

roughly chopped chard leaves

2

cups

thinly sliced green cabbage

2

Tbsp.

minced fresh mint

1

orange bell pepper sliced into strips

Zest of 1 lemon

1

Tbsp.

lemon juice

Plain yogurt for garnish

Mint leaves for garnish
Instructions
In a large skillet over medium heat, add a bit of oil, olive or coconut, minced onion and sliced garlic. Sauté until the garlic is fragrant, about 1 to 2 minutes.

Add ground turkey, allspice, cumin, salt and pepper to the skillet. Continue to sauté mixture until the turkey has browned, about 7 to 8 minutes.


Add roughly chopped chard leaves, thinly sliced green cabbage and orange bell pepper strips to meat mixture. Sauté until chard and cabbage have wilted and pepper strips have softened, about 3 minutes.

Add lemon juice and zest and give mixture a final stir.

Serve with a garnish of yogurt and fresh mint leaves.
Don't forget to check out our Ultimate Candida Diet program for lots more recipes that are free of gluten and added sugars. You can read more about it here.
Free Guide To Beating Candida
Sign up to our free, 8-part email course today, and learn how to create your own, personalized Candida treatment plan :)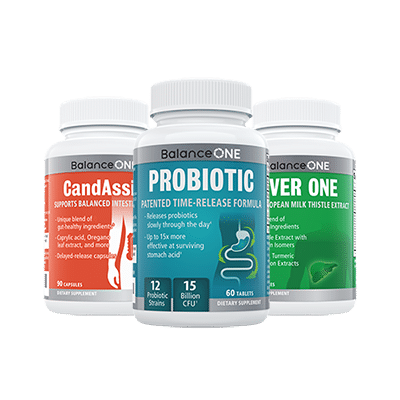 3-Month Candida Elimination Kit
Start Your 3-month Candida Cleanse
This Candida Kit contains all the supplements recommended on the Candida Diet:
- LIVER ONE to process and remove the toxins created by Candida.
- CANDASSIST to inhibit and weaken the Candida colonies in your gut.
- PROBIOTIC to replace the Candida yeast with probiotic bacteria.
Plus... the CANDIDA DIET RECIPE BOOK with 50+ low-sugar recipes
Comments