Mediterranean Buddha Bowl
Do you know where the Buddha Bowl got its name? One story is that the overstuffed bowl resembles the rounded appearance of Buddha's belly, while others maintain that the round bowl represents balance, a key concept of Buddhism. Buddha bowls have been gaining in popularity because they're a great way to eat a healthy, nourishing meal in one dish with lots of flavor.
As you eat our Mediterranean Buddha Bowl, pay attention to the many colors, flavors, and textures. Savor the fluffy grains, soft, cooked veggies, cool, crisp greens and the creamy, spicy tahini dressing. Try to make your meal a slow, mindful experience.
There are so many different combinations to explore in creating your own Buddha Bowl. Be sure to include a healthy grain like quinoa, both raw and cooked veggies, and a flavorful sauce to pull it all together.
Mediterranean Buddha Bowl
Ingredients
Ingredients
1

tablespoon

oil, olive or coconut

1

zucchini, cut into 1/2 inch rounds, then quartered

1/4

teaspoon

dried oregano

Salt and pepper to taste

1

cup

cooked quinoa

2

cups

greens, like spinach or mixed greens

1/4

cup

diced red pepper

1/4

cup

julienned cucumber

1/4

cup

black olives (packed in water)

1/4

cup

halved cherry tomatoes

Fresh minced parsley for garnish
Spicy Tahini Dressing
1/4

cup

tahini

1/4

cup

water

2

tablespoons

fresh lemon juice

Two good pinches each of cumin powder, coriander powder, paprika powder, chili powder and garlic powder

Salt and pepper to taste

A pinch of red pepper flakes for garnish
Instructions
Heat oil in a skillet over medium low heat.  Add zucchini and dried oregano and saute until zucchini is tender, about 15 minutes. Season with salt and pepper to taste, set aside.

In a large mixing bowl add greens, diced red pepper, julienned cucumber, black olives and cherry tomato halves, toss to combine, set aside.

To make the dressing, whisk together tahini, water and lemon juice in a small bowl. Add spices, whisk again to combine. Garnish with a pinch of red pepper flakes.

In a bowl, arrange cooked quinoa, sauteed zucchini and greens/vegetable mixture into three sections. Garnish with fresh minced parsley, serve with dressing.
Recipe Notes
Store unused portion of dressing in a sealed container and refrigerate.
This tasty, nutritious bowl will improve your gut health and give your immune system all the nutrition it needs. Our Ultimate Candida Diet program contains more than 100 gluten-free, sugar-free recipes just like this, plus lots of valuable advice on symptoms, treatment options, and more. Find out more here.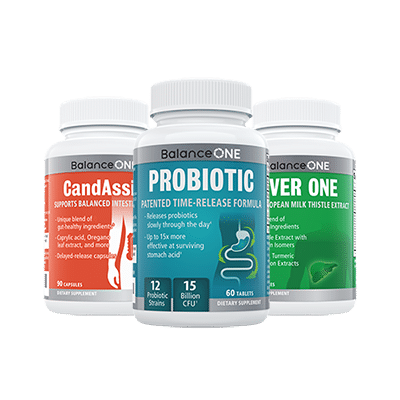 3-Month Candida Elimination Kit
Start Your 3-month Candida Cleanse
This Candida Kit contains all the supplements recommended on the Candida Diet:
- LIVER ONE to process and remove the toxins created by Candida.
- CANDASSIST to inhibit and weaken the Candida colonies in your gut.
- PROBIOTIC to replace the Candida yeast with probiotic bacteria.
Plus... the CANDIDA DIET RECIPE BOOK with 50+ low-sugar recipes
Comments