Leek And Roasted Garlic Focaccia Bread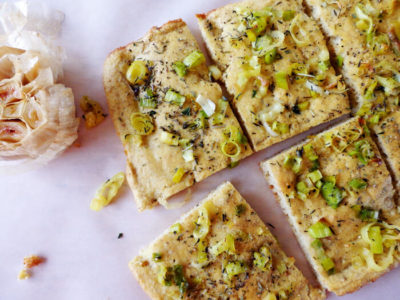 Here is a really filling, satisfying bread recipe that uses coconut flour and golden flaxseed meal. You can use it as a sandwich bread or just eat it as a snack by itself.
The recipe calls for roasted garlic (garlic is an antifungal too), so I have included directions at the bottom of the page to help you with that.
If you're switching to a low carbohydrate, anti-inflammatory diet like the Candida diet, it is often helpful to find substitutes for the foods that you like to eat.
So, for example, you might try zucchini noodle lasagna instead of your regular lasagna, and you could use this bread or some coconut bread instead of your usual store-bought loaf.
Try it and let me know what you think!
Free Guide To Beating Candida
Sign up to our free, 8-part email course today, and learn how to create your own, personalized Candida treatment plan :)
Leek And Roasted Garlic Focaccia Bread
Servings
:
1
flatbread (13 inches by 9 inches)
Ingredients
2

Tbsp.

olive oil

1

leek, sliced into thin rings

3

cloves

roasted garlic, mashed

4

egg whites

4

egg yolks

⅓

cup

kefir

⅓

cup

coconut flour, sifted

⅓

cup

golden flaxseed meal

½

tsp.

salt

¼

tsp.

baking soda

1

tsp.

Herbs de Provence

Salt and pepper to taste
Instructions
DIRECTIONS FOR LEEK AND ROASTED GARLIC FOCACCIA BREAD
Heat 1 tablespoon of olive oil in a skillet over medium low heat. Add sliced leek and sauté until softened, but not browned, about 5 minutes. Remove from heat and mix in mashed roasted garlic cloves, set aside.

Preheat oven to 350 degrees F (175 degrees C). With a brush, oil a 13×9 inch baking pan with olive oil. Cut a piece of parchment paper the width of the bottom of the baking pan and long enough to overlap the ends of the pan. Brush parchment paper with olive oil and place it in the pan.

In a medium bowl, beat egg whites until soft peaks form, set aside. In a small bowl, whisk egg yolks and kefir, set aside. In a large bowl, combine sifted coconut flour, golden flaxseed meal, salt and baking soda. Fold egg whites and egg yolk mixture into flour mixture until just combined.

Spread batter evenly in prepared baking pan and bake for 10 minutes. Remove baking pan from oven and scatter top of bread with leek and roasted garlic mixture, drizzle with remaining 1 tablespoon of olive oil, season with Herbs de Provence and salt and pepper to taste. Return baking pan to oven and bake bread for another 10 minutes, or until edges begin to brown.

Cool, slice, serve. It makes a great bread for sandwiches!
HOW TO MAKE ROASTED GARLIC
Preheat oven to 400 degrees F (200 degrees C).

Slice off top quarter of a whole head of garlic. Place garlic head in a small baking dish, cut side up, and drizzle with 1 tablespoon of olive oil. Cover baking dish tightly with foil and bake for 1 hour.

Let garlic cool slightly before using. Refrigerate unused portion in an airtight container for 1 to 2 weeks.
Healthy breads like this are an excellent option for a light snack on the Candida diet. Our Ultimate Candida Diet program is packed full of gluten-free, sugar-free recipes like this. It contains more than 100 recipes in total, and they're all perfect for the Candida diet. Find out more here.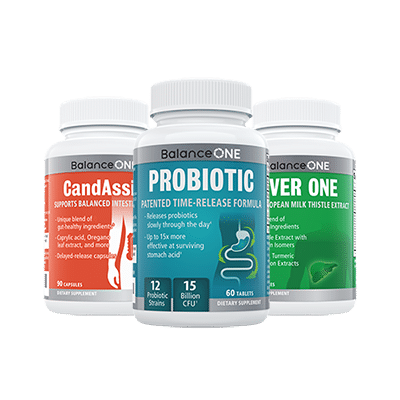 3-Month Candida Elimination Kit
Start Your 3-month Candida Cleanse
This Candida Kit contains all the supplements recommended on the Candida Diet:
- LIVER ONE to process and remove the toxins created by Candida.
- CANDASSIST to inhibit and weaken the Candida colonies in your gut.
- PROBIOTIC to replace the Candida yeast with probiotic bacteria.
Plus... the CANDIDA DIET RECIPE BOOK with 50+ low-sugar recipes
Comments