This is a tasty Greek dish that's perfect for one of the later stages of your Candida diet. Buckwheat pasta is a great choice because it has a lower Glycemic Load than regular pasta.
Glutenous grains like wheat and rye can irritate the lining of the gut, make Candida symptoms worse, and contribute to Leaky Gut Syndrome. Buckwheat pasta is a good alternative that has the satisfying, filling texture of regular pasta, but without the damaging gluten.
It's important to buy yeast-free vegetable stock, as some brands could trigger a reaction in those with yeast sensitivities. You can eat this lamb pasticcio by itself or with a simple salad on the side. This is a really filling meal that you and your friends will definitely enjoy!
Lamb Pasticcio
Ingredients
1

lb.

fresh lamb mince

4

oz.

dry buckwheat pasta

¾

cup

yeast-free vegetable stock

1

large onion

2

cups

baby spinach

2

medium tomatoes

1 ½

cups

plain yogurt (preferably Greek)

2

eggs

1

Tbsp.

flour (brown rice or buckwheat)

1 ½

tsp.

cinnamon

2

garlic cloves, minced

Olive oil
Instructions
Preheat oven to 190C/375F.

Pan-fry the chopped onion and garlic in oil for about 5 minutes or until soft.

Add the lamb and spinach and cook until the lamb browns.

Transfer to a pot and add the stock, salt, pepper and cinnamon.

Bring to a boil, cover and let simmer for 15 minutes.

Now stir the dry pasta and flour into the mixture. Spoon into a large ovenproof dish and place sliced tomato slices on top.

In a separate bowl, beat the eggs together with the yogurt, then spread evenly over the mixture.

Bake in the ovenproof dish for 45 minutes, then serve.
Hearty meals like this are an excellent option for evening meals on the Candida diet. Our Ultimate Candida Diet program is packed full of gluten-free, sugar-free recipes like this. It contains more than 100 recipes in total, and they're all perfect for the Candida diet. Find out more here.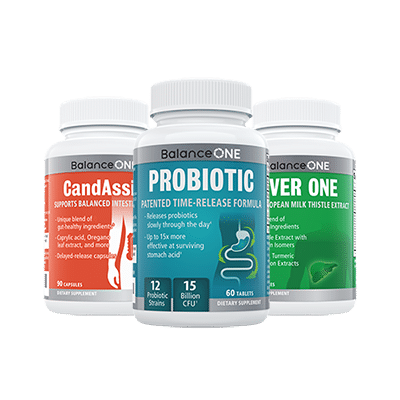 3-Month Candida Elimination Kit
Start Your 3-month Candida Cleanse
This Candida Kit contains all the supplements recommended on the Candida Diet:
- LIVER ONE to process and remove the toxins created by Candida.
- CANDASSIST to inhibit and weaken the Candida colonies in your gut.
- PROBIOTIC to replace the Candida yeast with probiotic bacteria.
Plus... the CANDIDA DIET RECIPE BOOK with 50+ low-sugar recipes
Comments