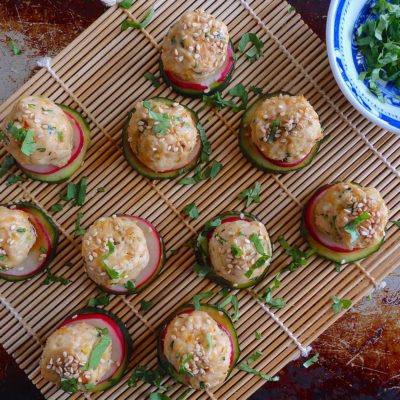 For gatherings big and small, you can't forget the appetizers. These tasty little Kimchi Meatballs, sitting on crisp slices of cucumber and radish, are sure to please your guests. They can also be made in advance and frozen for ease.
These meatballs include kimchi, a fermented food with lots of beneficial probiotic bacteria. The kimchi lends a delicious flavor to the meatballs, but remember that not all of the bacteria will survive the high temperatures of the baking process. However, the byproducts of the fermentation process still make this an extra-nutritious meal.
To get a real probiotic boost, you might consider serving the meatballs with a side of kimchi to get the full benefit of those beneficial bacteria. And you could add a dollop of plain probiotic yogurt on the side to provide a refreshing counterbalance to the spicy flavor of the kimchi.
Kimchi Meatballs
These tasty Kimchi Meatballs, served with crisp slices of cucumber and radish, are a perfect Asian-inspired appetizer.
Course:
Appetizer, Main Course
Servings
:
6
servings of 4 meatballs
Ingredients
Meatballs
1

Tbsp.

olive oil

1

lb.

ground turkey

2

scallions, finely minced

1

clove

garlic, finely minced

1

Tbsp.

fresh cilantro, finely minced

1

egg yolk, lightly beaten

1

tsp.

sesame oil

1

tsp.

ginger, freshly grated

1/2

tsp.

salt

1/2

tsp.

pepper

3

Tbsp.

kimchi, minced
Sauce & Garnish
2

Tbsp.

coconut aminos

2

Tbsp.

sesame oil

0.5

cucumbers, cut into 24 slices

4

radishes, cut into 24 slices

1

Tbsp.

sesame seeds

2

Tbsp.

cilantro, finely minced
Instructions
Preheat oven to 400 degrees F (205 degrees C). Brush a rimmed baking sheet with a tablespoon of oil, set aside.

In large bowl, mix together ground turkey, finely minced scallions, garlic and fresh cilantro, lightly beaten egg yolk, sesame oil, fresh grated or powdered ginger, salt, pepper and minced kimchi. With wet hands, form meat mixture into 24 meatballs. Place meatballs on oiled baking sheet, about an inch apart and bake 20 minutes. Remove meatballs from oven, cool slightly.

In a small bowl, whisk together coconut aminos and sesame oil, set aside.

To assemble appetizer, place a radish slice on top of a cucumber slice, then top with a meatball, repeat to make 24 appetizers. Drizzle coconut amino/sesame oil mixture over the meatballs. Garnish appetizers with sesame seeds and finely minced cilantro.
Looking for more gluten-free, sugar-free recipes? My Ultimate Candida Diet program contains more than 100 delicious recipes, plus lots of valuable advice on which foods to eat and avoid. Find out more here.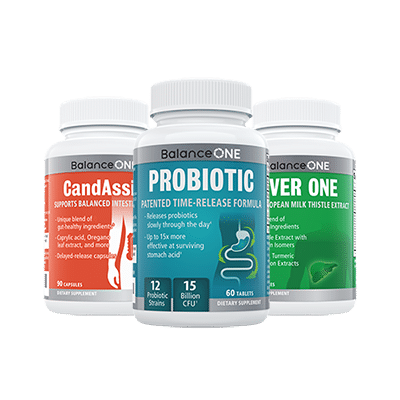 3-Month Candida Elimination Kit
Start Your 3-month Candida Cleanse
This Candida Kit contains all the supplements recommended on the Candida Diet:
- LIVER ONE to process and remove the toxins created by Candida.
- CANDASSIST to inhibit and weaken the Candida colonies in your gut.
- PROBIOTIC to replace the Candida yeast with probiotic bacteria.
Plus... the CANDIDA DIET RECIPE BOOK with 50+ low-sugar recipes
Comments