The blending of hazelnuts and avocado emphasizes their shared nutty richness in these Hazelnut Butter Bars. Moist, lightly sweet, and speckled with chopped toasted hazelnuts, these treats are deceptively nutritious in protein and healthy fats.
It's always a good idea to have some healthy, Candida-safe snacks ready to go, and this is a great option to have. Look in the snacks section for more muffins, bars, and no-bake balls that you can eat between mealtimes.
Hazelnuts are regarded by pastry chefs as one of the most prized dessert nuts. This recipe is perfect for a special occasion, and it works perfectly with a low sugar diet like the Candida diet.
These bars are gluten-free, dairy-free, and contain no added sugar. Note that they do contain some apple sauce, so they're better for the later stages of the diet.
Hazelnut Butter Bars
Ingredients
2

eggs

1

tsp.

powdered stevia

1

tsp.

alcohol free vanilla

1

cup

hazelnut butter (see recipe below)

1

avocado, peeled, seeded, cubed

⅓

cup

unsweetened applesauce

¼

cup

coconut oil, melted

½

tsp.

baking soda

¼

tsp.

salt

¼

cup

hazelnuts, toasted, chopped
Instructions
DIRECTIONS FOR HAZELNUT BUTTER BARS
Before you start, have all ingredients at room temperature.

Preheat oven to 350 degrees F (177 degrees C). Brush an 8 x 8 inch pan with oil. Cut a piece of parchment paper the width of the bottom of the pan and long enough to overlap the two sides of the pan. Brush parchment paper with oil, set aside.

In a medium bowl, combine eggs, powdered stevia and alcohol free vanilla. Whisk until mixture is frothy and pale yellow in color, set aside.

In the bowl of a food processor, combine hazelnut butter, cubed avocado, unsweetened applesauce, melted coconut oil, baking soda and salt. Process until smooth. Add egg mixture and process until just combined.

Pour mixture into prepared pan, sprinkle with chopped hazelnuts and bake 20 minutes. Cool completely before serving.
HOW TO MAKE HOMEMADE HAZELNUT BUTTER
First remove hazelnut skins by spreading 3 cups of hazelnuts onto a rimmed baking sheet and roasting for 10-15 minutes, until skins begin to crack.

Then place hazelnuts on a clean kitchen towel, wrap them up and rub vigorously for 1 to 2 minutes, removing most of the skins.

Place hazelnuts into the bowl of a food processor and process, scraping the sides of the bowl from time to time, until butter reaches a smooth, shiny consistency, about 6 to 8 minutes.

Store hazelnut butter in a container with a tight-fitting lid in the fridge for up to 6 weeks.
My Ultimate Candida Diet program includes more than 100 tasty recipes for every meal and every stage of the Candida diet. They are gluten-free, sugar-free, and absolutely delicious! Dr Wood and I have also included lots of valuable advice on how to beat Candida, and which foods to eat and avoid.
Free Guide To Beating Candida
Sign up to our free, 8-part email course today, and learn how to create your own, personalized Candida treatment plan :)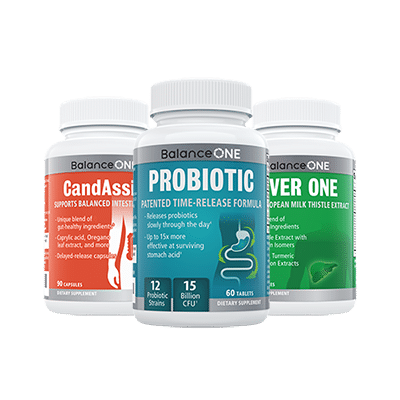 3-Month Candida Elimination Kit
Start Your 3-month Candida Cleanse
This Candida Kit contains all the supplements recommended on the Candida Diet:
- LIVER ONE to process and remove the toxins created by Candida.
- CANDASSIST to inhibit and weaken the Candida colonies in your gut.
- PROBIOTIC to replace the Candida yeast with probiotic bacteria.
Plus... the CANDIDA DIET RECIPE BOOK with 50+ low-sugar recipes
Comments