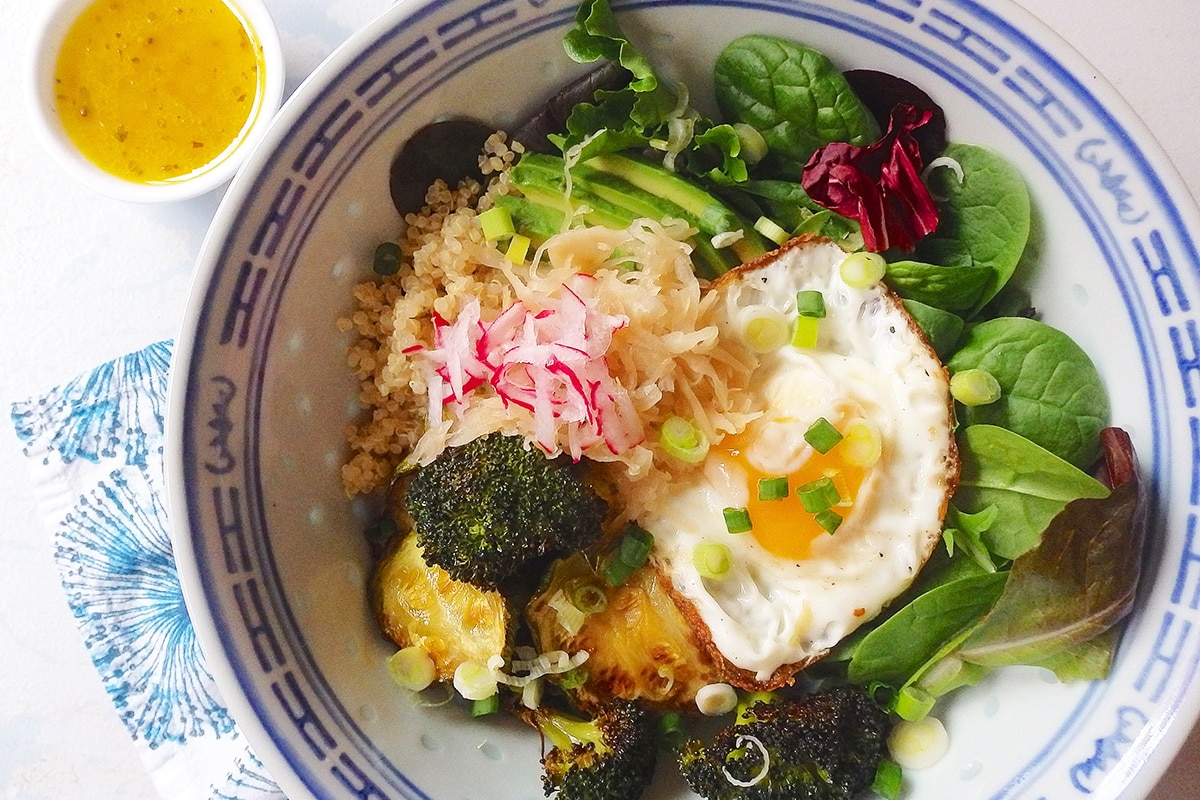 For good digestion and immunity, it's so important to eat foods that support balanced gut flora. Foods like these will help to promote regular digestion and also suppress the pathogenic bacteria and yeast that can cause imbalances like Candida.
Eating probiotic foods regularly will keep your digestive system healthy, happy, and balanced. One way to do this is by adding naturally fermented foods, such as yogurt, kefir, olives, and sauerkraut to your diet. Sauerkraut in particular is an excellent source of gut-friendly probiotic bacteria.
This Happy Gut Bowl can help to restore that important digestive balance. It's a healthy, well balanced meal full of color and texture. A flavorful bowl of goodness that includes both sauerkraut and a delicious sauerkraut vinaigrette, to help restore digestive balance and build a healthy, happy gut.
If you're interested in learning more about sauerkraut, check out my post on the health benefits of sauerkraut and how to make it at home. You can also use store-bought sauerkraut, but make sure that you buy a high-quality brand. It should be naturally fermented, contain no added vinegar, and will be found in the refrigerated section of your grocery store.
For breakfast, lunch or dinner, the Happy Gut Bowl is a great way to feed your gut good bacteria in your fight against Candida. Enjoy!
Free Guide To Beating Candida
Sign up to our free, 8-part email course today, and learn how to create your own, personalized Candida treatment plan :)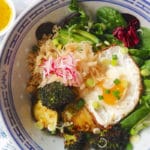 Happy Gut Bowl
Ingredients
Happy Gut Bowl
2

Tbsp.

oil, such as olive or coconut, divided

1/2

cup

broccoli florets

1/2

cup

sliced zucchini

Salt and pepper to taste

1

egg

1/2

cup

cooked quinoa

1

cup

mixed greens

1/2

avocado, thinly sliced

2-3

Tbsp.

sauerkraut

1

radish, grated

1

green onion, thinly sliced
Sauerkraut Vinaigrette
1/4

cup

olive oil

2

Tbsp.

sauerkraut juice

1/4

tsp.

onion powder

A pinch of dried herbs

Salt and pepper to taste

A pinch of powdered stevia
Instructions
Directions for Happy Gut Bowl
Heat a tablespoon of oil in a skillet over medium heat. Add the broccoli florets and the sliced zucchini and season with salt and pepper to taste. Sauté, stirring once or twice, until the vegetables are tender, about 5 to 6 minutes. Transfer the vegetables to a warm plate.

Add the remaining tablespoon of oil to the skillet. Crack in the egg, cover the skillet and cook until the egg white is lightly browned underneath, about 2 to 3 minutes. Transfer the fried egg to the plate with the vegetables.

Add the cooked quinoa to the skillet for a quick warm up, about 1 to 2 minutes, then remove skillet from the heat.

To make the bowl, layer in the mixed greens, cooked quinoa and sautéed broccoli and zucchini. Garnish the bowl with the sliced avocado, sauerkraut, grated radish and sliced green onion. Drizzle 1 to 2 tablespoons of the Sauerkraut Vinaigrette over everything. Enjoy!
Directions for Sauerkraut Vinaigrette
To make the vinaigrette, put the olive oil, sauerkraut juice, onion powder, dried herbs, salt, pepper and powdered stevia into a container with a lid. Put the lid on the container and shake well. Refrigerate remaining vinaigrette.
Looking after your gut has countless benefits for your digestion and overall health. Look for recipes that are gluten-free, anti-inflammatory, and low in simple carbohydrates. You can find more than 100 low-carb, gluten-free recipes just like this in our Ultimate Candida Diet program, which I wrote with Dr Eric Wood.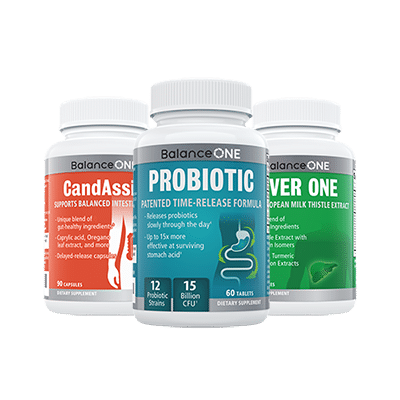 3-Month Candida Elimination Kit
Start Your 3-month Candida Cleanse
This Candida Kit contains all the supplements recommended on the Candida Diet:
- LIVER ONE to process and remove the toxins created by Candida.
- CANDASSIST to inhibit and weaken the Candida colonies in your gut.
- PROBIOTIC to replace the Candida yeast with probiotic bacteria.
Plus... the CANDIDA DIET RECIPE BOOK with 50+ low-sugar recipes
Comments