Grilled Asparagus Beef Rolls
This recipe is a really tasty way to get a satisfying fix of protein and vegetables. It can be an impressive (but healthy) appetizer for guests, or a simple evening meal for yourself. Note that this recipe contains goat cheese, which contains much less lactose than regular cheese and is a far better choice on the Candida diet.
Beef and asparagus are always a great pairing, especially when the asparagus is in season. Buying local, seasonal foods will help you create meals with the most nutritional value, as well as being better for the environment.
This would typically be a meal that you would eat later on the diet. Red meats like beef and lamb are healthy and nutritious, but harder to digest than white meats. Eat them in small amounts until the later stages of the diet. If you want to spice this recipe up a little, add some horseradish sauce to the cheese.
Grilled Asparagus Beef Rolls
Ingredients
8-12

spears of asparagus (depending on size)

4

pieces

thinly sliced beef

4

oil-packed sun-dried tomatoes

½

cup

goat cheese

4-8

fresh basil leaves (depending on size)

2

Tbsp.

olive oil
Instructions
Steam or boil the asparagus until slightly soft, and set aside.

Spread 2 tablespoons of goat cheese on each slice of beef. Add a sundried tomato to each slice, plus 1-2 of the basil leaves.

Place 2-3 asparagus on top, then roll the beef around it. Stick a tooth pick through to hold it together.

Place on a preheated grill or frying pan for about 3-4 minutes on each side. When the beef is cooked, go ahead and serve.
Nutritious, tasty meals like this are what the Candida diet is all about. If you're looking for more ideas, check out our Ultimate Candida Diet program. It includes more than 100 tasty recipes for every meal and every stage of the Candida diet.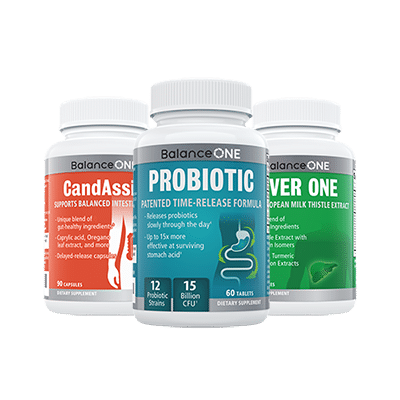 3-Month Candida Elimination Kit
Start Your 3-month Candida Cleanse
This Candida Kit contains all the supplements recommended on the Candida Diet:
- LIVER ONE to process and remove the toxins created by Candida.
- CANDASSIST to inhibit and weaken the Candida colonies in your gut.
- PROBIOTIC to replace the Candida yeast with probiotic bacteria.
Plus... the CANDIDA DIET RECIPE BOOK with 50+ low-sugar recipes