This is a delicious Andalusian soup that is traditionally served cold (yes, that's right!). It might contain a long list of ingredients, but it's a very simple (and tasty) recipe to prepare.
Gazpacho is a refreshing, light dish that is widely eaten in Spain and Portugal during the hot summer months. With lots of healthy, fresh ingredients, it is also packed full of micronutrients.
If you're looking to give your immune system a boost, this is a great option. You can serve it with a couple of slices of coconut bread or just eat it by itself.
There are a few staples in this dish that you should always have in your kitchen, fridge, or pantry. Garlic and olive oil are tremendously healthy ingredients that form a large part of the famous Mediterranean diet, and they also have antifungal properties. Apple cider vinegar is a fermented vinegar that has lots of health benefits too.
Gazpacho Soup
Ingredients
3-4

tomatoes

½

cucumber

1

bell pepper (any color)

1

shallot

1

garlic clove

½

cup

cilantro

Juice of 2 limes

1

Tbsp.

apple cider vinegar

2

Tbsp.

extra virgin olive oil

1

cup

water

½

Tbsp.

chili flakes

Salt and pepper to taste
Instructions
Core the tomatoes and dip them in boiling water for 1 minute to blanch them.

Transfer the tomatoes into iced water so that the skin can be removed easily.

Dice the tomatoes and put them in a food processor.

Set aside ⅓ of the peppers and cucumber. Add the remaining ingredients to the food processor and blend until smooth.

Chop the remaining peppers and cucumber and stir them in the soup. Sprinkle with some extra chili flakes and serve.
Healthy soups like this are an excellent option for a light snack on the Candida diet. Our Ultimate Candida Diet program is packed full of gluten-free, sugar-free recipes like this. It contains more than 100 recipes in total, and they're all perfect for the Candida diet. Find out more here.
Free Guide To Beating Candida
Sign up to our free, 8-part email course today, and learn how to create your own, personalized Candida treatment plan :)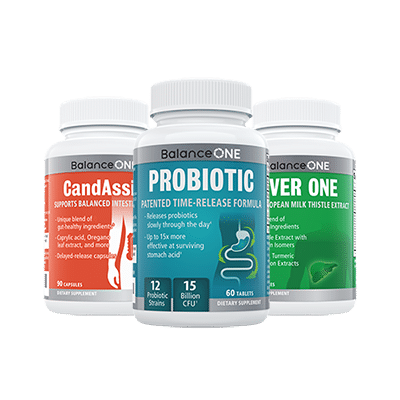 3-Month Candida Elimination Kit
Start Your 3-month Candida Cleanse
This Candida Kit contains all the supplements recommended on the Candida Diet:
- LIVER ONE to process and remove the toxins created by Candida.
- CANDASSIST to inhibit and weaken the Candida colonies in your gut.
- PROBIOTIC to replace the Candida yeast with probiotic bacteria.
Plus... the CANDIDA DIET RECIPE BOOK with 50+ low-sugar recipes