This coconut smoothie is really simple to make and super-nutritious. The base of the smoothie is coconut milk (from the can). In addition to providing lots of really healthy fats, coconut milk has natural antifungal properties and can help to maintain healthy gut flora.
This tasty smoothie also provides you with a hit of protein, healthy fats, antioxidants, and omega 3s from the addition of almond butter and chia seeds. Coconut extract as well as coconut flakes give this smoothie that extra coconut flavor boost. Great for breakfast or as a satisfying snack between meals!
Be aware that this is a high calorie snack that might not be suitable for everyone. The Candida diet is not designed to be a weight loss diet, although many people end up losing weight as they improve their diet! If you're on the Candida diet and still need to lose a few pounds, this smoothie might not be for you.
Very Coconut Smoothie
Ingredients
1

cup

unsweetened coconut milk (canned)

½

cup

unsweetened coconut milk ice cubes (about 4 cubes)

2

Tbsp.

almond butter

1

tsp.

chia seeds

1

tsp.

alcohol free coconut extract

4

drops liquid stevia or ⅛ tsp. powdered stevia

Flaked coconut
Instructions
Place coconut milk, coconut milk ice cubes, almond butter, chia seeds, alcohol free coconut extract and stevia in a blender.

Process until smooth.

Serve with flaked coconut garnish.
Recipes like this will make your recovery from Candida so much easier, faster, and more fun! Our Ultimate Candida Diet program is packed full of gluten-free, sugar-free recipes just like this one. There are more than 100 recipes in total, and they're all perfect for the Candida diet. Learn more here.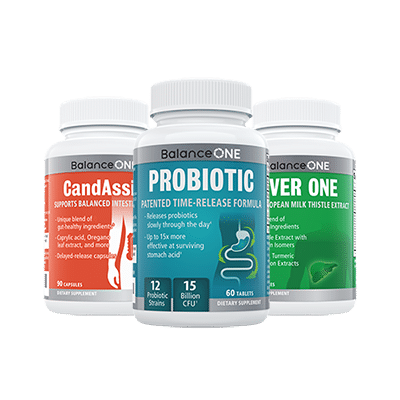 3-Month Candida Elimination Kit
Start Your 3-month Candida Cleanse
This Candida Kit contains all the supplements recommended on the Candida Diet:
- LIVER ONE to process and remove the toxins created by Candida.
- CANDASSIST to inhibit and weaken the Candida colonies in your gut.
- PROBIOTIC to replace the Candida yeast with probiotic bacteria.
Plus... the CANDIDA DIET RECIPE BOOK with 50+ low-sugar recipes
Comments