If you're used to having pancakes or cereal in the morning, you're probably missing the taste of something sweet at breakfast. This simple granola recipe uses only ingredients that are OK on the Candida diet, and adds a little stevia for sweetness.
When buying your buckwheat groats and puffed millet cereal, it's important to choose good quality brands. I recommend Bob's Red Mill and Arrowhead Mills brands, which are available at Whole Foods and many good quality supermarkets. Also, look for organic brands if possible.
Pseudo-grains like buckwheat and millet are really useful on a Candida diet because they completely gluten-free, lower in carbohydrates than regular grains, and have a better micronutrient profile to give your body the support that it needs.
When it comes to maintaining good gut health, the importance of avoiding gluten can't really be overstated. If your gut is already inflamed, which is very likely if you're suffering from an intestinal Candida overgrowth, gluten will just make it worse. By sticking to an anti-inflammatory diet free of added sugars and gluten, you can help get your gut (and your overall health!) back into shape.
Make a large batch of this Coconut Granola at the weekend and your breakfasts will be taken care of for the entire week. You can also store it safely in an airtight container for at least a month, especially if you keep it in a cool, dry place like your pantry.
Free Guide To Beating Candida
Sign up to our free, 8-part email course today, and learn how to create your own, personalized Candida treatment plan :)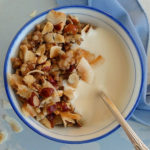 Coconut Granola
Ingredients
1

cup

buckwheat groats, cooked

1

cup

unsweetened puffed millet cereal

1

cup

chopped nuts or seeds, such as hazelnuts, almonds or sunflower seeds

1

cup

unsweetened flaked coconut

¼

cup

flax seeds

¼

cup

coconut oil

1

Tbsp.

coconut extract

1

tsp.

powdered stevia

1

tsp.

cinnamon

Pinch

of sea salt

Plain yogurt
Instructions
Preheat oven to 325 degrees F (163 degrees C). Spread cooked buckwheat groats evenly on a rimmed baking sheet and bake for 20 minutes, stirring after 10 minutes. Remove baking sheet from oven.

In a large bowl, combine buckwheat groats, unsweetened puffed millet cereal, nuts or seeds, unsweetened flaked coconut and flax seeds, stir to combine. In a small bowl, add oil, alcohol free coconut extract, powdered stevia, cinnamon and a pinch of salt, whisk to combine. Pour liquid ingredients over dry ingredients, toss to combine.

Spread granola mixture on baking sheet and bake until golden brown, about 20 minutes, stirring after 10 minutes. Remove granola from oven, cool. Serve with plain yogurt.

Granola can be stored in an airtight container for up to a month.
Breakfast on the Candida diet requires some creative thinking! It's not always easy to find gluten-free, sugar-free recipes that still taste good! That's where my Ultimate Candida Diet program comes in. It contains over 100 recipes that are tasty, gluten-free, and completely free of added sugars.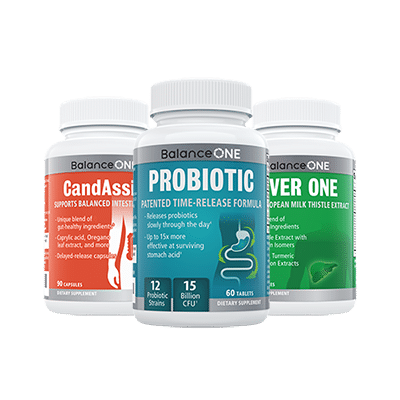 3-Month Candida Elimination Kit
Start Your 3-month Candida Cleanse
This Candida Kit contains all the supplements recommended on the Candida Diet:
- LIVER ONE to process and remove the toxins created by Candida.
- CANDASSIST to inhibit and weaken the Candida colonies in your gut.
- PROBIOTIC to replace the Candida yeast with probiotic bacteria.
Plus... the CANDIDA DIET RECIPE BOOK with 50+ low-sugar recipes
Comments