Coconut Chicken With Spinach
This simple meal uses just a handful of simple, nutritious ingredients and is very easy to prepare. It really shows that a tasty meal doesn't need to be complicated. This dish takes just a few minutes to prepare, and has delicious flavors that everyone at your table will love.
If you have Candida and are looking to rebalance your gut flora, coconut oil and coconut milk are mild antifungals that can improve our gut health and prevent any yeast colonies from getting out of control.
Coconut-based ingredients (like oil, milk, and flour) are rich in healthy fats and nutrient-dense. Combined with the chicken, almonds, and some healthy vegetables, they make a filling meal that will provide lots of healthy energy for all the family.
Coconut Chicken With Spinach
Ingredients
1

large chicken breast

3

cups

baby spinach

1

large onion, chopped

½

cup

coconut milk

3

Tbsp.

coconut oil

Handful of almonds

Salt and pepper to taste
Instructions
Chop up the almonds in the food processor, then lightly brown them in a pan with coconut oil. Set aside.

Add the coconut milk and spinach to a pot, then cover on a low heat and simmer.

Now saute the onions in a pan for 2 minutes. Cut the chicken into squares, add it to the pan and leave until thoroughly cooked.

Take the chicken and onions, and add them to the pot with the coconut milk and spinach. Stir and cover for 2 more minutes.

Serve garnished with toasted almonds, salt and pepper.
Healthy meals like this are an excellent option for a light snack on the Candida diet. Our Ultimate Candida Diet program is packed full of gluten-free, sugar-free recipes like this. It contains more than 100 recipes in total, and they're all perfect for the Candida diet. Find out more here.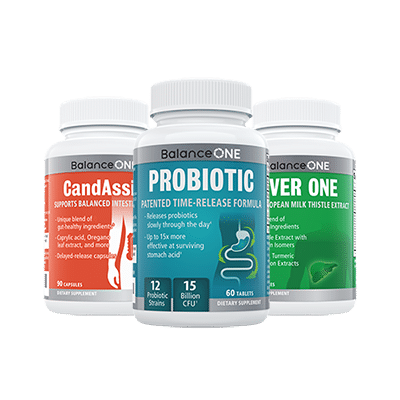 3-Month Candida Elimination Kit
Start Your 3-month Candida Cleanse
This Candida Kit contains all the supplements recommended on the Candida Diet:
- LIVER ONE to process and remove the toxins created by Candida.
- CANDASSIST to inhibit and weaken the Candida colonies in your gut.
- PROBIOTIC to replace the Candida yeast with probiotic bacteria.
Plus... the CANDIDA DIET RECIPE BOOK with 50+ low-sugar recipes
Comments