This is a really easy recipe for classic bread stuffing, but with a twist! Make it into a Candida diet-friendly recipe by using a loaf of our gluten-free Coconut Bread instead of regular bread.
It has a perfect blend of savory herbs, vegetables and bread cubes, creating that traditional flavor you've come to know. If you make coconut bread regularly, as many Candida dieters do, then you might have already prepared one of the main ingredients.
If you haven't got into the habit of baking coconut bread regularly, give it a try! It's a wonderfully tasty, low-carb alternative to regular bread. It's completely gluten-free and free of added sugars, and packs a much more powerful nutritional punch than your regular store-bought loaf.
This Coconut Bread Stuffing is the perfect complement to our Roast Turkey with Sage Pesto. Are you ready to start a new, healthy tradition for your holiday dinners? Your family will find it filling and satisfying, and you'll all feel much healthier the next day. The kids might not even realize what they're eating!
Coconut Bread Stuffing
Ingredients
1

Tbsp.

oil, coconut or olive

1/2

cup

chopped celery

1/2

cup

chopped onion

1/2

cup

chopped mushrooms

1/2

cup

thinly sliced leeks

1

tsp.

dried thyme

1/2

tsp.

salt

Pepper to taste

1

cup

water or vegetable/chicken broth (homemade preferable!)
Instructions
Preheat oven to 325 degrees F (163 degrees C). Brush an 8x8 casserole dish with oil, coconut or olive, set aside.

Cut a loaf of Candida Diet Coconut Bread into 1 inch slices, then cut slices into 1 inch cubes. Place bread cubes into a large bowl, set aside.

Heat oil in a large skillet over medium heat. Add chopped celery, chopped onion, chopped mushrooms, and sliced leeks, saute for about 8 minutes.

Season vegetable mixture with dried thyme, salt and pepper, stir to combine. Add vegetable mixture and water or broth to bread cubes, gently stir to combine.

Place stuffing mixture in prepared casserole dish, cover and bake for 15 minutes. Uncover and bake until stuffing is golden brown, about another 15 minutes. Serve warm.
Holiday season can be tough to navigate with so much temptation. By sticking to Candida diet recipes with no added sugar and no gluten, you can give your gut the best possible chance of making it through to January 1st in good shape.
Free Guide To Beating Candida
Sign up to our free, 8-part email course today, and learn how to create your own, personalized Candida treatment plan :)
The Ultimate Candida Diet program, which I wrote with Dr Eric Wood, contains more than 100 delicious recipes to improve your gut health and fight Candida.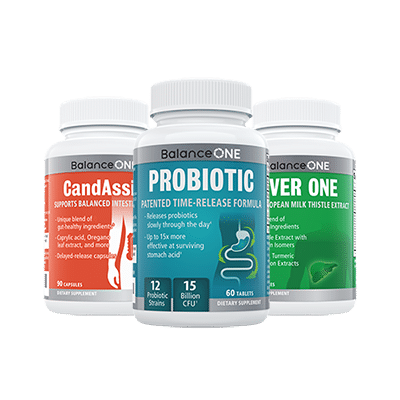 3-Month Candida Elimination Kit
Start Your 3-month Candida Cleanse
This Candida Kit contains all the supplements recommended on the Candida Diet:
- LIVER ONE to process and remove the toxins created by Candida.
- CANDASSIST to inhibit and weaken the Candida colonies in your gut.
- PROBIOTIC to replace the Candida yeast with probiotic bacteria.
Plus... the CANDIDA DIET RECIPE BOOK with 50+ low-sugar recipes
Comments