Coconut & Almond No-Bake Balls
People often want to know how they can prepare healthy, low-sugar snacks and desserts while on the Candida diet.
Making yummy desserts on the Candida diet requires a little more work than regular desserts. But the results are worth it when you get to eat healthy, nutritious foods that won't ruin your gut health.
Here is a delicious recipe that uses unsweetened almond butter and stevia. This recipe requires no baking at all. You can eat these no-bake balls in moderation during your Candida diet.
You can keep these balls in the fridge for several days (although they will probably be eaten much sooner!) and you can freeze them too. They are gluten-free, sugar-free, and packed full of healthy nutrients from the almond butter and coconut. If you get hungry between meals, these balls are a really satisfying little snack.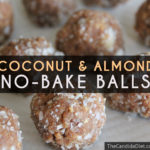 Coconut & Almond No-Bake Balls
Ingredients
1

cup

almond butter (unsweetened)

½

cup

coconut flour

½

cup

unsweetened shredded coconut

4

Tbsp.

canned coconut milk

4

Tbsp.

coconut oil

1

packet Stevia
Instructions
Set aside a heaped tablespoon of the shredded coconut in a bowl.

Add all the other ingredients to a food processor and blend until nicely mixed together.

Now mold the mixture with your hands into bite sized balls, and roll them in the shredded coconut.

Place them on a plate and refrigerate for 30 minutes. Enjoy!
Healthy foods like this are an excellent option for between-meals snacking on the Candida diet. Our Ultimate Candida Diet program is packed full of gluten-free, sugar-free recipes like this. It contains more than 100 recipes in total, and they're all perfect for the Candida diet. Find out more here.
Free Guide To Beating Candida
Sign up to our free, 8-part email course today, and learn how to create your own, personalized Candida treatment plan :)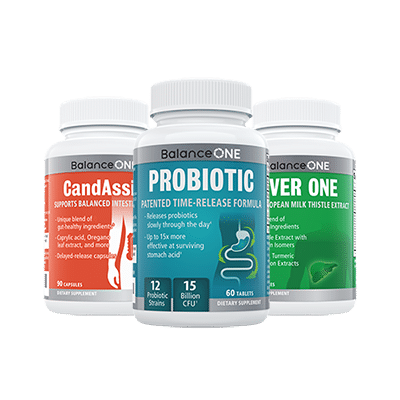 3-Month Candida Elimination Kit
Start Your 3-month Candida Cleanse
This Candida Kit contains all the supplements recommended on the Candida Diet:
- LIVER ONE to process and remove the toxins created by Candida.
- CANDASSIST to inhibit and weaken the Candida colonies in your gut.
- PROBIOTIC to replace the Candida yeast with probiotic bacteria.
Plus... the CANDIDA DIET RECIPE BOOK with 50+ low-sugar recipes
Comments