When you think of comfort food, what comes to mind? Chicken Pot Pie of course! It's warm, rich and creamy, loaded with vegetables and chicken and topped with a tasty golden crust. It's a perfect, healthy dinner recipe for events or large family gatherings. And this dish makes for excellent leftovers too, if you're lucky enough to have any!
This recipe has a long list of ingredients, but it is a very easy meal to put together. It is full of healthy, nutritive foods from our approved foods list, and it's a really tasty, balanced meal. Feel free to make this dish your own by substituting other vegetables and herbs.
There's also a selection of antifungal foods in this recipe. Foods like olive oil, onion, coconut oil, and coconut milk can all help to promote a healthy balance in your intestinal microbiome. Equally, there are no added sugars to feed a Candida overgrowth, and no gluten or pro-inflammatory ingredients to worsen your gut health. Enjoy!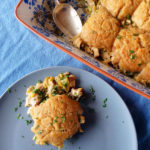 Chicken Pot Pie
Ingredients
INGREDIENTS FOR FILLING
2

Tbsp.

oil, such as coconut or olive

¼

cup

onion, minced

1

leek, white part only, thinly sliced

1

yellow squash, halved lengthwise, thinly sliced

8

asparagus spears, cut into 1 inch pieces

2

cups

chicken stock, plus an additional cup if needed

¼

cup

coconut milk

1

Tbsp.

arrowroot powder

½

tsp.

salt

½

tsp.

pepper

2 to 3

cups

cooked chicken, cubed

1

Tbsp.

fresh parsley, minced

1

tsp.

fresh tarragon, minced
INGREDIENTS FOR TOPPING BATTER
½

cup

coconut flour

½

tsp.

baking soda

½

tsp.

salt

½

tsp.

pepper

4

eggs

½

cup

coconut oil, melted

¼

cup

coconut milk

2

tsp.

apple cider vinegar

Minced parsley for garnish
Instructions
Heat oil in a large skillet over medium heat. Add onion, leek, yellow squash and asparagus. Sauté until tender, about 5 to 6 minutes. Add 2 cups chicken stock and coconut milk, and bring to a gentle boil.

In a small bowl, add arrowroot powder and a tablespoon of cold water. Whisk to combine. Add gradually to vegetable mixture, stirring constantly, until mixture thickens. If your mixture becomes too thick, add a bit more stock, stirring constantly until you reach a desired consistency. Season with salt and pepper, then stir in cooked chicken and herbs. Pour pot pie filling into a 13 x 9 inch baking dish, set aside.

Preheat oven to 400 degrees F (205 degrees C).

In a large bowl, add coconut flour, baking soda, salt and pepper. Whisk to combine. In a medium bowl, add eggs, coconut oil, coconut milk, apple cider vinegar and 2 teaspoons of water, then whisk until frothy. Pour liquid ingredients into bowl with dry ingredients, and stir to combine.

Spoon topping batter over pot pie filling in eight equal portions. Bake 20 to 25 minutes or until filling is bubbling and topping is deeply golden and a little crusty. Serve with a garnish of minced parsley.
Hearty foods like pies, stews, and soups are excellent options for cold winter nights on the Candida diet. Our Ultimate Candida Diet program is packed full of gluten-free, sugar-free recipes like this. It contains more than 100 recipes in total, and they're all perfect for the Candida diet. Find out more here.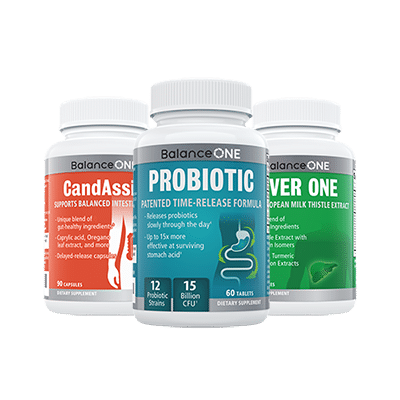 3-Month Candida Elimination Kit
Start Your 3-month Candida Cleanse
This Candida Kit contains all the supplements recommended on the Candida Diet:
- LIVER ONE to process and remove the toxins created by Candida.
- CANDASSIST to inhibit and weaken the Candida colonies in your gut.
- PROBIOTIC to replace the Candida yeast with probiotic bacteria.
Plus... the CANDIDA DIET RECIPE BOOK with 50+ low-sugar recipes
Comments