Just because you are avoiding sugary and processed foods, doesn't mean that your diet has to be boring. Here is a delicious chicken fajita bowl with homemade seasoning and avocado crema. This recipe has lots of Candida-safe ingredients, but it's very easy to throw everything together. Perfect for when you need a filling, tasty meal!
I have included a tasty recipe for Fajita seasoning which you can use in other recipes too. In fact, I would recommend making larger amounts of this seasoning and storing it for future meals. All of the ingredients are dry, so it will keep for months if you store it in a jar and leave it in your pantry.
The main fajita bowl recipe is at the top. I have added the ingredients and directions for the seasoning and the avocado crema below. As always, it's a far healthier choice to make your seasonings and dressings at home. Check out our recipes section for more low sugar recipe ideas. Let me know what you think!
Chicken Fajita Bowl
Ingredients
INGREDIENTS FOR CHICKEN FAJITA
1

lb.

boneless skinless chicken breasts

1-2

Tbsp.

Fajita Seasoning (see below)

1

red pepper, sliced into strips

1 

yellow pepper, sliced into strips

1

onion, halved and cut into ½ inch slices

1

large clove garlic, thinly sliced

1

Tbsp.

coconut aminos

Salt and pepper to taste

2

cups

mixed greens

2

cups

cooked quinoa

1

avocado, sliced

4

green onions, thinly sliced

¼

cup

cilantro, finely chopped

Coconut aminos or avocado crema (see below)
INGREDIENTS FOR FAJITA SEASONING
1

Tbsp.

chili powder

2

tsp.

onion powder

1

tsp.

cumin powder

1

tsp.

garlic powder

1

tsp.

paprika

1

tsp.

oregano

1

tsp.

salt
INGREDIENTS FOR AVOCADO CREMA
1

avocado

1

cup

fresh cilantro

1

Tbsp.

lemon juice

Salt

Water
Instructions
DIRECTIONS FOR CHICKEN FAJITA
In a large skillet over medium high heat, add a tablespoon of oil, such as olive or coconut.

Sauté peppers and onion until softened, about 5 minutes. Add garlic, sauté for 1 minute more. Sprinkle with coconut aminos, season with salt and pepper to taste, toss to combine. Transfer pepper and onion mixture onto a plate, set aside.

Toss chicken breasts in Fajita Seasoning. Add another tablespoon of oil to the skillet and cook chicken breasts until juices run clear and meat is no longer pink in the middle. Remove from skillet, thinly slice chicken breasts crosswise.

To assemble, fill a large bowl with mixed greens. Arrange sliced chicken breasts, pepper and onion mixture, quinoa and avocado slices on top of greens. Garnish bowl with thinly sliced green onions and finely chopped cilantro. Serve with a splash of coconut aminos or Avocado Crema.
DIRECTIONS FOR FAJITA SEASONING
Combine all ingredients in jar.

Put lid on jar, shake well until mixed.
DIRECTIONS FOR AVOCADO CREMA
Combine avocado, cilantro and lemon juice in a blender, puree until smooth.

Add water to thin. Season to taste with salt.
Bowls like this are easy to prepare and good weeknight options for your Candida diet. Our Ultimate Candida Diet program is packed full of gluten-free, sugar-free recipes like this. It contains more than 100 recipes in total, and they're all perfect for the Candida diet. Find out more here.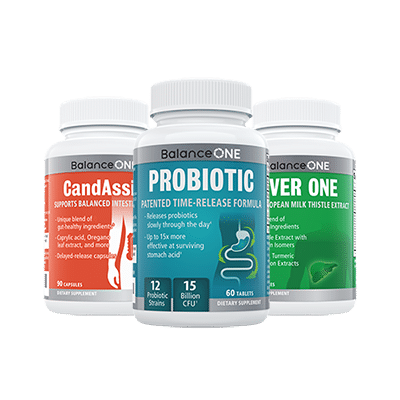 3-Month Candida Elimination Kit
Start Your 3-month Candida Cleanse
This Candida Kit contains all the supplements recommended on the Candida Diet:
- LIVER ONE to process and remove the toxins created by Candida.
- CANDASSIST to inhibit and weaken the Candida colonies in your gut.
- PROBIOTIC to replace the Candida yeast with probiotic bacteria.
Plus... the CANDIDA DIET RECIPE BOOK with 50+ low-sugar recipes
Comments