Celeriac, or celery root, is a low-starch vegetable that resembles the turnip. With the texture of a potato, its distinctive taste can be described as a cross between parsley and celery. Its name can be misleading – it has nothing to do with the root of the celery plant.
All you need is a blender to create this rich, velvety soup. The thyme leaves enhance the celeriac's earthy flavor, making it a comforting year-round soup. A small amount of Granny Smith apple adds a hint of sweetness.
Who doesn't love a hearty soup when it's cold outside? Soups and stews are a really good way to introduce some nutritious vegetables into your diet, especially those whose texture or flavor you don't particularly enjoy. Combine them with lots of herbs and spices, blend them into a smooth texture, and your vegetables are completely transformed.
This is also a great example of how to prepare simple meals for a low sugar, anti-inflammatory diet like the Candida diet. It contains lots of non-starchy vegetables, herbs and seasoning to add flavor, and antifungal ingredients to keep a Candida overgrowth in check.
Celeriac Soup
Ingredients
1

Tbsp.

oil, olive or coconut

1

leek, white and light green parts, cleaned and thinly sliced crosswise

1

celeriac, about 1 1/2 pounds, peeled and cut into 1 inch dice

1/4

cup

peeled, diced Granny Smith apple (optional)

5

cups

water

1/2

tsp.

salt

1

tsp.

dried thyme leaves

Pepper to taste

Fresh thyme leaves for garnish
Instructions
Heat oil in a large saucepan over medium heat. Add leeks and cook, stirring, for about 5 minutes.

Add celeriac and apples (if using) and cook, stirring, for another 5 minutes.

Add water and bring to a simmer, then cover and cook until celeriac is tender, about 30 minutes.

Puree soup mixture until smooth in an upright blender, food processor or directly in the saucepan with an immersion blender.

Stir in dried thyme leaves, pepper to taste and additional salt if necessary.

Serve soup with a garnish of fresh thyme leaves.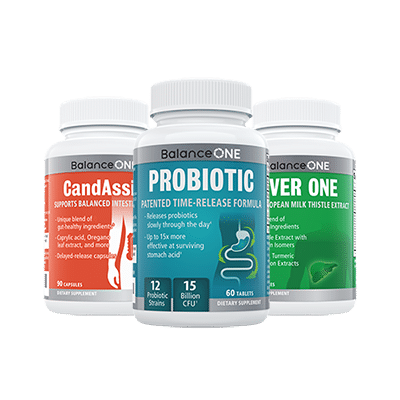 3-Month Candida Elimination Kit
Start Your 3-month Candida Cleanse
This Candida Kit contains all the supplements recommended on the Candida Diet:
- LIVER ONE to process and remove the toxins created by Candida.
- CANDASSIST to inhibit and weaken the Candida colonies in your gut.
- PROBIOTIC to replace the Candida yeast with probiotic bacteria.
Plus... the CANDIDA DIET RECIPE BOOK with 50+ low-sugar recipes
Comments