This is a tasty Eastern European dish that combines lean meat and lots of vegetables. Most cabbage roll recipes include lots of rice, added sugar, and other foods that should be avoided on a Candida diet.
For this version I've removed the added sugar and used buckwheat groats instead of the rice. The result is a healthy, filling meal that works great on a Candida diet.
Cabbage is a great probiotic food and can also help to heal the gut lining. Reducing intestinal inflammation is a key goal on the Candida diet, and cabbage juice is a well known for repairing and protecting the intestinal membrane.
If you haven't eaten buckwheat before you might think it's a grain, but actually it is a fruit seed. Diets high in buckwheat have been linked to lower cholesterol and better control of blood sugars (both good news for anyone suffering from Candida symptoms). It is also totally gluten-free.
I use buckwheat a lot in my cooking. You can use buckwheat groats in a dish like this, or bake healthy cookies with buckwheat flour. I hope you enjoy the cabbage rolls!
Free Guide To Beating Candida
Sign up to our free, 8-part email course today, and learn how to create your own, personalized Candida treatment plan :)
Cabbage Rolls
Ingredients
1

lb

minced beef or lamb

½

cup

uncooked buckwheat groats

1

egg

1

head of cabbage

2

medium onions, chopped

4

garlic cloves, minced

4

tomatoes

2

Tbsp.

olive oil

Salt to taste
Instructions
Tear 6-8 leaves off the cabbage and cook in boiling water or steam until wilted enough to be flexible. Set aside to cool.

Add the meat, uncooked buckwheat groats, 1 of the onions (chopped), egg, salt and 2 of the minced garlic cloves to a large bowl. Mix thoroughly.

Roll the meat and buckwheat mixture up into the cabbage leaves and put them in a baking dish.

For the tomato sauce, heat 2 tablespoon of oil over medium heat in a medium sized pan. Sauté the other onion, the remaining garlic and the chopped tomatoes.

Place the stuffed cabbage leaves in a baking dish and drizzle with the tomato sauce. Add 1 cup of water and cover.

Bake in the oven 350 degrees for 1 hour. Serve with a dollop of plain yogurt.
Nutritious, tasty meals like this are what the Candida diet is all about. If you're looking for more ideas, check out our Ultimate Candida Diet program. It includes more than 100 tasty recipes for every meal and every stage of the Candida diet.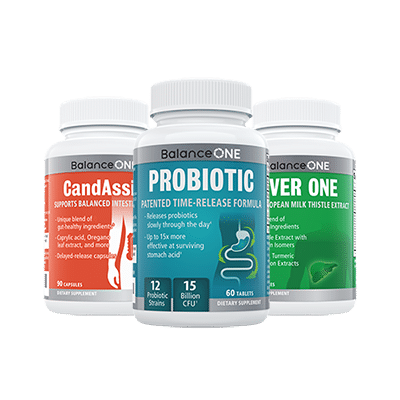 3-Month Candida Elimination Kit
Start Your 3-month Candida Cleanse
This Candida Kit contains all the supplements recommended on the Candida Diet:
- LIVER ONE to process and remove the toxins created by Candida.
- CANDASSIST to inhibit and weaken the Candida colonies in your gut.
- PROBIOTIC to replace the Candida yeast with probiotic bacteria.
Plus... the CANDIDA DIET RECIPE BOOK with 50+ low-sugar recipes
Comments