One of the keys to a successful Candida diet is using lots of herbs and spices to make delicious meals.
This curry is a great example. It uses mustard seeds, cumin, turmeric and garam masala to create a tasty dish that's absolutely full of flavor. It's gluten-free, sugar-free, and full of healthy, nutritious ingredients.
It's also a great recipe to enjoy during the initial Candida cleanse that forms part of the Candida diet.
Cabbage is particularly useful for Candida sufferers because of the way that it helps to repair the intestinal membrane. That's why we recommend cabbage juice as a gut repair agent in our Candida treatment protocol.
Incorporating more cabbage into your diet will help to repair some of the damage done by a chronic Candida infection.
Free Guide To Beating Candida
Sign up to our free, 8-part email course today, and learn how to create your own, personalized Candida treatment plan :)
This recipe is for a vegetarian masala but you can easily adapt it by adding organic proteins like chicken or beef. It makes for a tasty, filling dinner, and you might even be able to enjoy some delicious leftovers the next day!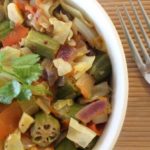 Cabbage Masala
Ingredients
½

head of cabbage

1

large onion

2

large tomatoes

¾

cup

okra

5

garlic cloves

3

Tbsp.

coconut oil

1

tsp.

mustard seeds

1

tsp.

cumin powder

1

tsp.

garam masala

¼

tsp.

turmeric

1

tsp.

sea salt
Instructions
Finely slice the cabbage, onion, tomatoes, okra and garlic cloves, then set them aside.

Heat some oil in a pan and add the mustard seeds. Once they pop, add the sliced garlic cloves and cook until slightly soft. Next, add the onion and cook until soft. Lastly, add the turmeric powder, garam masala, and cumin powder, and cook for another 2-3 minutes.

Now add the tomatoes to the pan. Cover and cook for 5 minutes.

Lastly, add the cabbage, okra, and salt. Cook for a further 15 minutes.
Healthy meals like this are an excellent option for an evening dinner on the Candida diet. Our Ultimate Candida Diet program is packed full of gluten-free, sugar-free recipes like this. It contains more than 100 recipes in total, and they're all perfect for the Candida diet. Find out more here.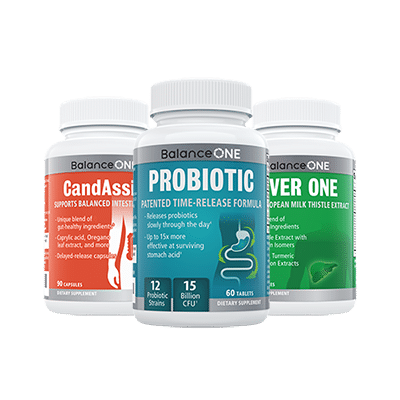 3-Month Candida Elimination Kit
Start Your 3-month Candida Cleanse
This Candida Kit contains all the supplements recommended on the Candida Diet:
- LIVER ONE to process and remove the toxins created by Candida.
- CANDASSIST to inhibit and weaken the Candida colonies in your gut.
- PROBIOTIC to replace the Candida yeast with probiotic bacteria.
Plus... the CANDIDA DIET RECIPE BOOK with 50+ low-sugar recipes
Comments