Buffalo Cauliflower Florets
Buffalo seasoning isn't just for wings! Believe it or not, it's delicious on veggies too, like here on these Buffalo Cauliflower Florets. Our seasoning mix uses smoked paprika for a subtle, smoky flavor and perfect color. A pinch of red pepper flakes adds a touch of heat too.
Apple cider vinegar adds that twang you've come to know from bottled buffalo sauces, but it's healthier here without the preservatives and additives. These Buffalo Cauliflower Florets are a tasty, veggie version of the classic pregame (or any time!) snack.
If you love the seasoning mix, you can save time by mixing the dry ingredients in advance. Do it in large quantities, then take out a few teaspoons and mix it with the olive oil and apple cider vinegar just before you start cooking.
This is a great example of taking a food that's not particularly healthy (e.g. buffalo wings) and transforming it by adding in nutritious substitutions. This dish is great for gut health and the Candida diet, but it's wickedly tasty too. Enjoy!
Buffalo Cauliflower Florets
Ingredients
Cauliflower Florets
3

Tbsp.

oil, such as olive or coconut, melted

1

lb.

cauliflower florets

1

tsp.

apple cider vinegar

2

tsp.

paprika, smoked variety recommended

1/2

tsp.

salt

1/2

tsp.

onion powder

1/4

tsp.

garlic powder

1

stalk celery, thinly sliced

1

scallion, thinly sliced

1

Tbsp.

finely minced parsley

Pinch

of red pepper flakes (optional)
Ranch Dressing
1/4

cup

plain kefir

1/4

cup

plain yogurt

2

tsp.

apple cider vinegar

2

tsp.

finely minced chives

2

tsp.

finely minced parsley

Salt and pepper to taste
Instructions
Directions For Cauliflower Florets
Preheat oven to 400 degrees F (205 degrees C). Drizzle a rimmed baking sheet with 1 tablespoon oil, set aside.

In a large bowl, add 2 tablespoons oil, apple cider vinegar, paprika, salt, onion powder and garlic powder. Whisk to combine. Add cauliflower florets to bowl and toss to coat thoroughly, about 1 to 2 minutes.

Place well seasoned florets on oiled baking sheet and bake, turning once midway, until florets are tender and nicely browned on edges, about 25 minutes.

Remove from oven and transfer florets to a serving platter. Garnish with thinly sliced celery and scallions, minced parsley and a pinch of red pepper flakes (if using). Drizzle with Ranch Dressing (below), and serve.
Directions For Ranch Dressing
Combine all ingredients in a small bowl, whisk to combine, serve. Store unused dressing in a covered container in the refrigerator for 2 to 3 days.
Snacks can be challenging on the Candida diet. Luckily, we've got them covered in our Ultimate Candida Diet program! It contains more than 100 recipes, including crackers, muffins, and more, that are completely free of gluten and added sugar.
Free Guide To Beating Candida
Sign up to our free, 8-part email course today, and learn how to create your own, personalized Candida treatment plan :)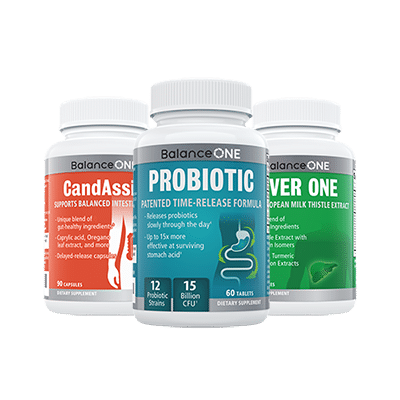 3-Month Candida Elimination Kit
Start Your 3-month Candida Cleanse
This Candida Kit contains all the supplements recommended on the Candida Diet:
- LIVER ONE to process and remove the toxins created by Candida.
- CANDASSIST to inhibit and weaken the Candida colonies in your gut.
- PROBIOTIC to replace the Candida yeast with probiotic bacteria.
Plus... the CANDIDA DIET RECIPE BOOK with 50+ low-sugar recipes
Comments