Buckwheat Breakfast Muffins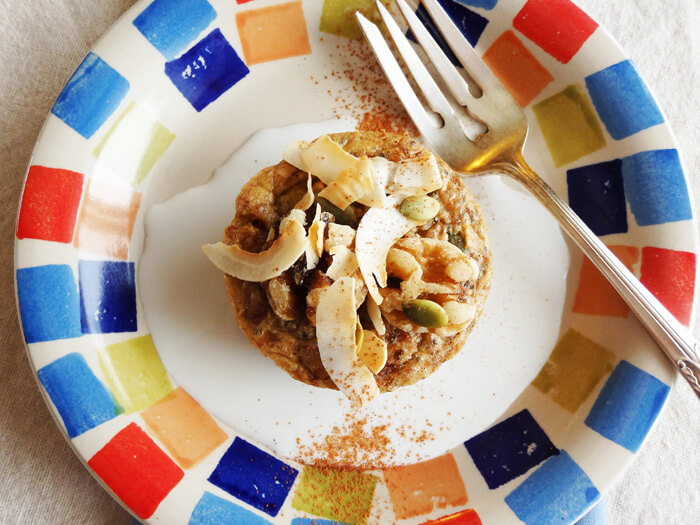 Stuck for breakfast ideas? Breakfast can be one of the harder meals to prepare while on a low-sugar diet plan, mainly because the majority of store-bought cereals and breads are full of added sugars. There are more than 50 names for sugar, and you might find anywhere between one and five of those names on your cereal's ingredient list.
Another ingredient to avoid while on the Candida diet is gluten. There is more and more evidence showing that gluten has a role in increasing gut inflammation, even in those who are not Celiac. If you want to improve your gut health (regardless of whether you're suffering from Candida or not), removing both gluten and added sugars from your diet is a great first step.
Pseudo-grains like buckwheat and quinoa are a very useful addition to your diet. They contain no gluten, are naturally low in carbohydrates, and have a much better micronutrient profile than many other grains. You can use them in a variety of recipes, and you'll see them featured in many of the Candida recipes on this site. Buckwheat itself is technically a fruit seed, not a grain.
These filling muffins are made from energizing buckwheat groats and a tasty combination of nuts and seeds. They contain no added sugar at all. The tasty mix of healthy fats and protein will give you an energy-filled start to your day. Enjoy!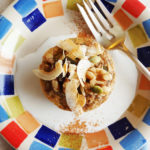 Buckwheat Breakfast Muffins
Ingredients
1

cup

buckwheat groats, soaked

½

cup

unsweetened coconut flakes

¼

cup

walnuts, chopped

¼

cup

pumpkin seeds

2

Tbsp.

chia seeds

¼

cup

flaxseed meal

1

tsp.

cinnamon

¼

tsp.

salt

2

eggs

1 ½

cups

almond milk

¼

cup

almond butter

3

packets or 1 ½ tsp. powdered stevia

1

Tbsp.

vanilla extract

Coconut milk, cinnamon, coconut flakes, walnuts and pumpkin seeds for garnish
Instructions
In a medium bowl, soak buckwheat groats with a pinch of salt overnight or about 6 to 7 hours. Drain and rinse groats thoroughly with fresh water, drain again.

Preheat oven to 375 degrees F (190 degrees C). Brush a 12 cup muffin tin generously with oil, such as coconut oil, set aside.

In a large bowl, add buckwheat groats, coconut flakes, walnuts, pumpkin seeds, chia seeds, flaxseed meal, cinnamon and salt, stir to combine.

In a small bowl, add eggs, almond milk, almond butter, stevia and alcohol free vanilla, whisk until frothy.

Pour liquid ingredients into bowl with dry ingredients, stir to combine. Scoop about ⅓ cup muffin mixture into each cup of the prepared muffin tin. Bake muffins for about 15 to 20 minutes or until muffins have browned around the edges and are firm to the touch. Cool muffins in tin for about 10 minutes.

Serve warm with coconut milk, a dusting of cinnamon and a garnish of coconut flakes, walnuts and pumpkin seeds.
Following the Candida diet means avoiding gluten, added sugars, and anything that can promote gut inflammation. Confused? It's actually pretty easy once you get used to it, and the health benefits are more than worth it. My Ultimate Candida Diet program contains more than 100 delicious recipes that are completely free of gluten, added sugars, and anything that might make Candida worse.
Free Guide To Beating Candida
Sign up to our free, 8-part email course today, and learn how to create your own, personalized Candida treatment plan :)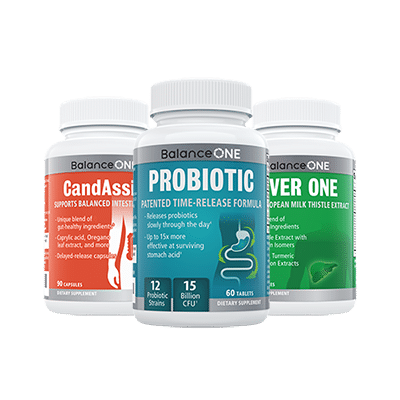 3-Month Candida Elimination Kit
Start Your 3-month Candida Cleanse
This Candida Kit contains all the supplements recommended on the Candida Diet:
- LIVER ONE to process and remove the toxins created by Candida.
- CANDASSIST to inhibit and weaken the Candida colonies in your gut.
- PROBIOTIC to replace the Candida yeast with probiotic bacteria.
Plus... the CANDIDA DIET RECIPE BOOK with 50+ low-sugar recipes
Comments