Buckwheat And Brussels Sprout Salad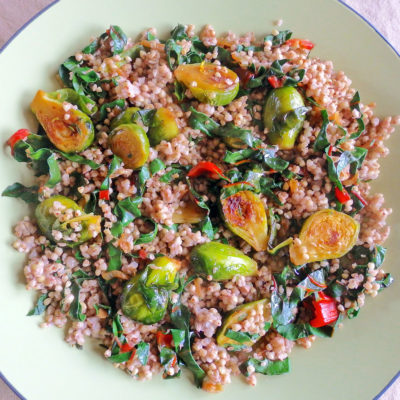 You can make the most of hearty winter flavors with this comforting salad. Brussels sprouts are really nutritious veggies that have complex flavors and a subtle, crunchy texture. They also have some antifungal properties, similar to other vegetables like onion and garlic, so they will even help to keep your gut flora in balance.
This is a versatile recipe that can be served in two ways. Try it as a warm side dish next to with roasted meats, or eat it alone as a salad tossed with a bit of extra virgin olive oil and lemon juice.
Buckwheat sounds like a grain, but it's actually a fruit seed. It contains no gluten, is naturally lower on the glycemic index than most grains, and has a much better nutritional profile. On a Candida diet, you can use in in baking, to make breakfast cereal, or as an ingredient in a side dish like this one.
You can garnish this salad with fresh herbs like minced thyme leaves or parsley, or with a handful of crushed toasted nuts such as hazelnuts, pecans or walnuts. Brussels sprouts never tasted so good!
Buckwheat And Brussels Sprout Salad
Ingredients
2

cups

water

1

cup

whole buckwheat groats

Pinch

of salt

2

Tbsp.

oil, such as extra virgin olive or coconut

¼

cup

shallots, thinly sliced

¼

cup

celery, thinly sliced

1

clove

garlic, minced

8

Brussels sprouts, cut in half lengthwise

1

Tbsp.

fresh thyme leaves (or 1 teaspoon dried thyme)

1

cup

vegetable broth or water

Salt and pepper to taste

2 to 3

leaves

Swiss chard, cut across into ribbons

Fresh herbs, such as thyme or parsley, minced

Crushed, toasted nuts, such as hazelnuts, pecans or walnuts
Instructions
In a medium saucepan, bring water and salt to a boil. Add whole buckwheat groats, cover and simmer for 15 to 20 minutes. Remove from heat, let rest for 5 minutes, fluff with a fork.

While buckwheat groats are simmering, heat oil in a large skillet over medium heat. Add shallots, celery, garlic, Brussels sprouts and saute until vegetables begin to soften and brown (about 5 minutes). Next, add fresh or dried thyme leaves, broth or water, salt and pepper to taste and simmer covered over medium low heat for about 10 minutes. Then add the Swiss chard, stirring to wilt for about 1 to 2 minutes. Lastly, add cooked buckwheat groats to the skillet, and stir to combine.

To serve, you can garnish with fresh minced herbs and crushed, toasted nuts. For a salad, cool it to room temperature and toss with 2 to 3 tablespoons of extra virgin olive oil and 1 tablespoon of lemon juice.
Looking for more gluten-free, sugar-free recipes? My Ultimate Candida Diet program contains more than 100 delicious recipes, plus lots of valuable advice on which foods to eat and avoid. Find out more here.
Free Guide To Beating Candida
Sign up to our free, 8-part email course today, and learn how to create your own, personalized Candida treatment plan :)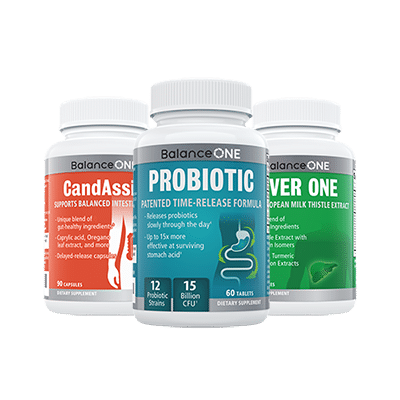 3-Month Candida Elimination Kit
Start Your 3-month Candida Cleanse
This Candida Kit contains all the supplements recommended on the Candida Diet:
- LIVER ONE to process and remove the toxins created by Candida.
- CANDASSIST to inhibit and weaken the Candida colonies in your gut.
- PROBIOTIC to replace the Candida yeast with probiotic bacteria.
Plus... the CANDIDA DIET RECIPE BOOK with 50+ low-sugar recipes