Brussels sprouts are not just for the holiday season! When cooked properly, they are a delicious food that can be enjoyed all through the year. They have extremely high levels of phytonutrients, help reduce inflammation, and are a great source of fiber too.
Brussels sprouts are a very economical vegetable to eat, and packed full of nutrients, but be sure to cook them correctly. Over- or under-cooked Brussels sprouts are not pleasant to eat. Be particularly careful not to overcook your Brussels sprouts, as this can lead to a slightly unpleasant aftertaste and smell.
Try to make these cruciferous vegetables a regular part of your diet. This side dish is a great way to start. You can also steam them and eat them as a snack with salt and pepper, or mix them into a salad with nuts, red onions and goat cheese.
At Thanksgiving or Christmas, you can combine these Brussels sprouts with our delicious cauliflower mash for a filling, seasonal meal that is completely acceptable on the Candida diet.
Braised Brussels Sprouts
Ingredients
1

Tbsp.

olive oil

3

shallots (sliced)

2

cloves

garlic (crushed)

1

lb.

Brussels sprouts

1

cup

chicken or vegetable stock

4-5

sprigs

fresh thyme (chopped)

1/4

cup

pine nuts to top

Salt and pepper to taste
Instructions
In a medium sized pan heat the oil over a medium heat.

Cook the shallots for 2-3 minutes until soft.

Add the garlic and cook for a further 2 minutes.

Add the sprouts and cook, stirring often, until brown patches appear on the sprouts.

Stir in the stock and thyme as well as salt and pepper to taste.

Cover and cook over a low heat for 10-15 minutes until sprouts are soft and tender, but not overcooked.

Top with pine nuts to serve.
Looking for more gluten-free, sugar-free recipes? Our Ultimate Candida Diet program contains more than 50 delicious recipes, plus lots of valuable advice on which foods to eat and avoid. Find out more here.
Free Guide To Beating Candida
Sign up to our free, 8-part email course today, and learn how to create your own, personalized Candida treatment plan :)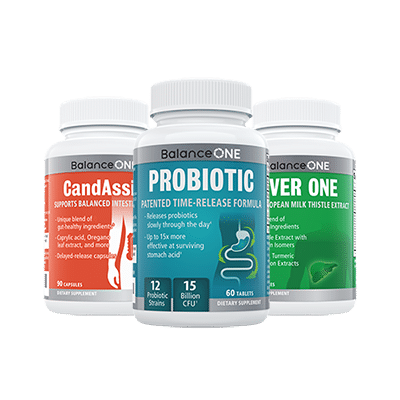 3-Month Candida Elimination Kit
Start Your 3-month Candida Cleanse
This Candida Kit contains all the supplements recommended on the Candida Diet:
- LIVER ONE to process and remove the toxins created by Candida.
- CANDASSIST to inhibit and weaken the Candida colonies in your gut.
- PROBIOTIC to replace the Candida yeast with probiotic bacteria.
Plus... the CANDIDA DIET RECIPE BOOK with 50+ low-sugar recipes