Nothing smells better on a summer evening than steak on the grill. With only a few ingredients, like coconut aminos and sesame oil, this marinade adds big flavor to these Asian Steak Kebabs, especially if allowed to marinate overnight. Eat them hot off the grill with crisp romaine lettuce leaves, radicchio and green onions. Gather around the grill and enjoy!
Here are a couple of tips to make this recipe easier and tastier. First, cut the meat into cubes while it's still partially frozen. It's much easier to cut evenly, and you'll end up with similarly sized pieces that will cook evenly. Second, try to marinate the steak cubes for as long as possible, to get all those tasty flavors really deep inside.
When cooking meat on a grill, make sure that it doesn't end up blackened. Not only has overcooked meat been linked to cancer, those charred, blackened edges are no good for your gut health either. When cooking over an open flame, 'low and slow' is the way to go. If your meats come of the grill black on the outside and undercooked inside, you're doing it wrong!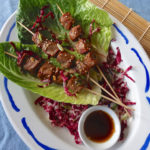 Asian Steak Kebabs
Ingredients
Ingredients For Marinade
1/3

cup

coconut aminos

2

Tbsp.

water

1

Tbsp.

sesame oil

6

drops liquid stevia

2

cloves

garlic, minced

2

green onions, thinly sliced

1

Tbsp.

sesame seeds, toasted

1

tsp.

red pepper flakes
Main Ingredients
2

pounds

steak, cut into 2 inch cubes

12

bamboo skewers (soaked in water for 30 minutes)

Romain lettuce leaves

Radicchio, cut in half, then thinly sliced

Green onions, thinly sliced

Sesame seeds, toasted
Instructions
Place all ingredients except steak cubes into a small bowl, whisk to combine, set aside.

Place steak cubes in an 8 x 8 glass baking dish, then add marinade and toss to coat. Cover baking dish with plastic wrap and marinate steak cubes for at least 2 hours or up to 24 hours in refrigerator.

Preheat grill, charcoal or gas, to medium-high heat. Thread steak cubes onto soaked bamboo skewers. Grill steak kebabs on a clean, oiled grate for about 3 to 4 minutes per side.

Transfer kebabs to a platter. Serve on lettuce leaves with thinly sliced radicchio and green onions and a sprinkle of sesame seeds. Coconut aminos with a sprinkle of red pepper flakes can be used as a dipping sauce.
Recipe Notes
Meat is best cut into cubes while partially frozen.
The longer you marinate the meat, the better the flavor.
Be sure to brush clean grill grate with oil to prevent kebabs from sticking.
Keep exposed ends of the skewers away from direct heat if possible, as they may burn in spite of soaking.
Looking for more gluten-free, sugar-free recipes? My Ultimate Candida Diet program contains more than 100 delicious recipes, plus lots of valuable advice on which foods to eat and avoid. Find out more here.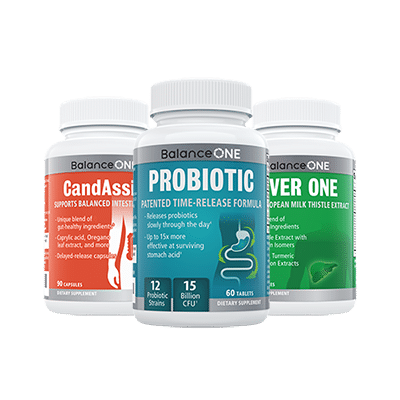 3-Month Candida Elimination Kit
Start Your 3-month Candida Cleanse
This Candida Kit contains all the supplements recommended on the Candida Diet:
- LIVER ONE to process and remove the toxins created by Candida.
- CANDASSIST to inhibit and weaken the Candida colonies in your gut.
- PROBIOTIC to replace the Candida yeast with probiotic bacteria.
Plus... the CANDIDA DIET RECIPE BOOK with 50+ low-sugar recipes
Comments