This recipe for our gluten-free Apple Galette is just perfect for these cold wintry nights (depending on where you live, of course!)
A galette is a rustic, free form pie, so no special baking skills are required. Simply roll out the dough and fold it up and around the fruit center, pleating the edges as you go, creating a random, ruffled shape. That's the beauty of a galette – anyone can make it.
Granny Smith apples are an excellent choice for your galette filling, because they are very low in sugar. Lightly sweetened with stevia, the delicious tartness of the apple shines through. Because the apple slices are briefly sautéed before adding to the crust, the galette bakes quickly and evenly. A hint of sweet cinnamon dusted over the warn baked apple filling is the perfect finishing touch.
This beautiful Apple Galette is a wonderful finale for a holiday meal, or indeed at any time of year. Feel free to throw in a handful of blueberries or cranberries for some extra cheer.
Apple Galette
Ingredients
Ingredients for Apple Mixture
2

tablespoons

of oil, olive or coconut

3

Granny Smith apples, peeled, cored and thinly sliced

1

tablespoon

fresh lemon juice

1/4

teaspoon

powdered stevia
Ingredients for Dough
5

tablespoons

(or more as needed) cold water

2

eggs

1/2

cup

buckwheat flour

1/2

cup

millet flour

1/2

cup

quinoa flour

2

teaspoons

psyllium husk powder

1/2

teaspoon

salt

5

tablespoons

olive oil

Cinnamon
Instructions
In a large skillet over medium heat, add 2 tablespoons of oil. Add the apple slices and sprinkle over with lemon juice and powdered stevia. Sauté the apples, stirring occasionally, until tender, about 4 to 5 minutes. Remove the skillet from the heat, set aside.

In a small bowl, whisk together one egg and one tablespoon of water, set aside.

In the bowl of a food processor, combine the flours, psyllium husk powder and salt and pulse a few times to combine. Add the olive oil and pulse the mixture until it resembles crumbs. Add the other egg and pulse until just combined. Add 4 tablespoons of cold water, or more as needed, one at a time and pulse until the dough forms a ball.

Preheat oven to 400 degrees F ( 200 degrees C).

Place the dough between two sheets of parchment paper dusted with a bit of one of the flours. Roll the dough into a 14 to 15 inch round. Remove the top layer of parchment paper, then lift the bottom layer of parchment paper and the dough round onto a rimmed baking sheet.

Spread the apple mixture on top of the dough round, leaving about a two inch border. Fold the border edge of the dough over the apples, pleating as you go. Brush the crust with the egg and water mixture.

Bake until the galette is golden brown, about 15 to 20 minutes. Cool, then serve with a dusting of cinnamon.
There are lots of tasty desserts on the Candida diet! This recipe uses low-sugar green apples, stevia, and cinnamon to make a delicious holiday dessert. Our Ultimate Candida Diet program contains more than 100 gluten-free, sugar-free recipes just like this, plus lots of valuable advice on symptoms, treatment options, and more. Find out more here.
Free Guide To Beating Candida
Sign up to our free, 8-part email course today, and learn how to create your own, personalized Candida treatment plan :)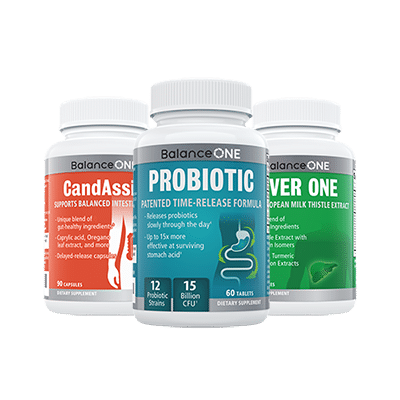 3-Month Candida Elimination Kit
Start Your 3-month Candida Cleanse
This Candida Kit contains all the supplements recommended on the Candida Diet:
- LIVER ONE to process and remove the toxins created by Candida.
- CANDASSIST to inhibit and weaken the Candida colonies in your gut.
- PROBIOTIC to replace the Candida yeast with probiotic bacteria.
Plus... the CANDIDA DIET RECIPE BOOK with 50+ low-sugar recipes
Comments