Almond-Crusted Chicken Fingers
Everyone loves chicken fingers, but the ones you buy in supermarket or restaurants are not a smart choice for your health.
Most chicken fingers are deep-fried and contain lots of gluten. They use the cheapest parts of the animal, which usually includes a mixture of fat, cartilage and bone.
Luckily, homemade chicken fingers don't need to be unhealthy! For starters, you can make them with high quality chicken.
The coating doesn't need to be some deep-fried, gluten-heavy mix that has zero nutritional value. Instead, cover your tenders with a mixture of almond meal, flaxseed meal, coconut and spices for a deliciously crunchy texture.
These almond-crusted chicken tenders are best accompanied by a yogurt-based dip with a hint of chives and lime. Try this homemade 'fast food' meal and it's sure to become a family favorite 🙂
Free Guide To Beating Candida
Sign up to our free, 8-part email course today, and learn how to create your own, personalized Candida treatment plan :)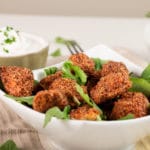 Almond-Crusted Chicken Fingers
Ingredients
Chicken Fingers
1 ½

pound

boneless and skinless chicken breasts or tenders, cut into 1 ½ -inch strips

1

cup

almond meal

½

tsp.

cayenne pepper (optional)

¼

cup

desiccated coconut

1

tsp.

garlic powder

2

Tbsp.

flaxseed meal

1

Tbsp.

paprika

2

large free-range eggs, lightly beaten

Sea salt and freshly ground black pepper, to taste
Yogurt & Chive Dip
1

cup

plain yogurt (dairy or coconut)

½

tsp.

garlic powder

2

Tbsp.

fresh chives, finely chopped

1

tsp.

lime zest

1

Tbsp.

lime juice
Instructions
Preheat the oven to 375 ̊ F; grease lightly and line large baking tray with parchment paper.

In a shallow container, combine almond meal, cayenne, coconut, garlic powder, flaxseed meal and paprika. Season to taste.

Place the lightly beaten eggs in another container.

Dip chicken pieces in eggs and coat with the dry mixture, shaking off excess.

Place onto the prepared baking sheet.

Bake for about 25 minutes, turning once, until golden brown and crisp.

In a medium bowl, mix together yogurt, garlic powder, chives, lime zest and juice; season to taste.

Serve the chicken strips with the dip and a salad or some sliced avocado.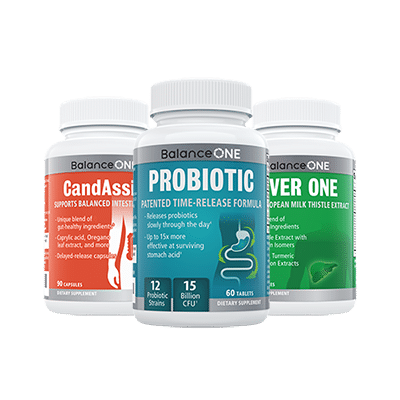 3-Month Candida Elimination Kit
Start Your 3-month Candida Cleanse
This Candida Kit contains all the supplements recommended on the Candida Diet:
- LIVER ONE to process and remove the toxins created by Candida.
- CANDASSIST to inhibit and weaken the Candida colonies in your gut.
- PROBIOTIC to replace the Candida yeast with probiotic bacteria.
Plus... the CANDIDA DIET RECIPE BOOK with 50+ low-sugar recipes
Comments