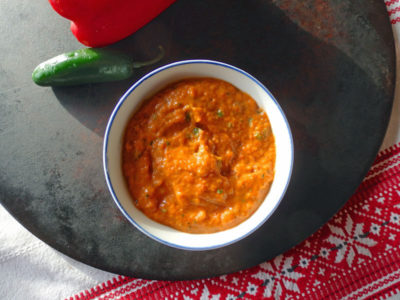 This Eastern European dip is full of healthy veggies, herbs and spices. You can use it as a dip or as an accompaniment to many of your favorite meat and pasta dishes. Try pairing it with some healthy buckwheat ravioli for a delicious, Balkan-inspired meal.
This is a great example of how you can make meals with strong, delicious flavors on the Candida diet. There's no need to add sugar or sweeteners to every meal when there is such a wealth of herbs, spices, seasonings, and tasty fresh foods to savor.
If you make a little extra ajvar, store it in a sealed container in refrigerator for up to 1 week. Even better, you can make a larger batch and keep some frozen for when you need it, or for a tasty dip at parties. Ajvar is one for that your guests are unlikely to have tried before. Enjoy!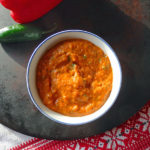 Ajvar Dip
Ingredients
1

eggplant

2

red bell peppers

1

clove

finely minced garlic

¼

cup

parsley, finely minced

2

Tbsps.

lemon juice

¼

cup

olive oil

Salt and pepper to taste
Instructions
Heat oven to 475 degrees F (245 degrees C).

Place eggplant and peppers on a rimmed baking sheet and roast until skins begin to blacken, about 30 minutes. Place roasted vegetables in a plastic bag or in a covered bowl, let stand 10 to 15 minutes.

Peel skins off roasted vegetables, then place them into the bowl of a food processor along with the garlic, parsley, lemon juice and olive oil. Process all ingredients until mixture is smooth. Season with salt and pepper to taste.

Serve ajvar with a sprinkle of minced parsley. Store in a sealed container in refrigerator for up to 1 week.
Looking for more gluten-free, sugar-free recipes? My Ultimate Candida Diet program contains more than 100 recipes, plus lots of valuable advice from me and Dr Eric Wood on how to follow an effective Candida diet. Learn more about it here.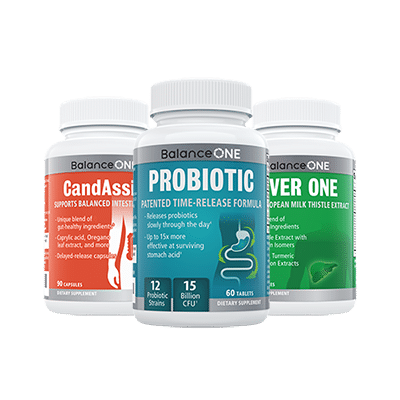 3-Month Candida Elimination Kit
Start Your 3-month Candida Cleanse
This Candida Kit contains all the supplements recommended on the Candida Diet:
- LIVER ONE to process and remove the toxins created by Candida.
- CANDASSIST to inhibit and weaken the Candida colonies in your gut.
- PROBIOTIC to replace the Candida yeast with probiotic bacteria.
Plus... the CANDIDA DIET RECIPE BOOK with 50+ low-sugar recipes
Comments