There's nothing like the smell of roasting chilies – just ask anyone who has visited New Mexico in the autumn during chili harvest. The fresh roasted chilies give this stew a flavor that is deliciously smoky and earthy. Serve steaming bowls garnished with avocado slices, fresh cilantro, and lime wedges. Pumpkin seed oat biscuits make a nice accompaniment.
You can use canned green chilies, but roasting your own is much better! Roast your chilies about 6 inches below a preheated broiler until the skin is charred and blistered, about 3 to 5 minutes per side. Then seal them in a plastic bag or in a covered bowl and let them stand 10 to 15 minutes. Lastly, peel off the skins and scrape out seeds and membranes with a spoon.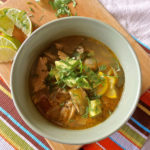 Green Chili Chicken Stew
Ingredients
2

Tbsp.

oil, such as olive or coconut

½

cup

zucchini, cut lengthwise, then into 1/2 inch slices

½

cup

yellow squash, cut lengthwise, then into 1/2 inch slices

½

cup

coarsely chopped onion

2

celery stalks, thinly sliced

2

garlic cloves, minced

4

cups

chicken broth

8

oz.

cooked, shredded chicken

½

cup

chopped green chilies (see note above)

1

tsp.

dried oregano

½

tsp.

salt

¼

tsp.

pepper

2

Tbsp.

lime juice

Avocado slices (optional)

Fresh cilantro (optional)

Lime wedges (optional)
Instructions
In a Dutch oven, heat oil over medium heat. Add the zucchini, yellow squash, onion, celery, and garlic and cook, stirring occasionally, until beginning to soften, about 5 minutes.

Add chicken broth and bring to a boil. Reduce heat and add shredded chicken, green chilies, dried oregano, salt and pepper.

Simmer stew covered over medium low heat for 15 to 20 minutes. Stir in lime juice just before serving. Garnish bowls of stew with sliced avocado, fresh cilantro and lime wedges.
Looking for more gluten-free, sugar-free recipes? My Ultimate Candida Diet program contains more than 50 delicious recipes, plus lots of valuable advice on which foods to eat and avoid.
Find out more here
.