If you're used to having pancakes or cereal in the morning, you're probably missing the taste of something sweet at breakfast. This simple granola recipe uses only ingredients that are OK on the Candida diet, and adds a little stevia for sweetness.
When buying your buckwheat groats and puffed millet cereal, it's important to choose good quality brands. I recommend Bob's Red Mill and Arrowhead Mills brands, which are available at Whole Foods and many good quality supermarkets. Also, look for organic brands if possible.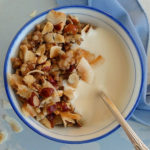 Coconut Granola
Ingredients
1

cup

buckwheat groats, cooked

1

cup

unsweetened puffed millet cereal

1

cup

chopped nuts or seeds, such as hazelnuts, almonds or sunflower seeds

1

cup

unsweetened flaked coconut

¼

cup

flax seeds

¼

cup

coconut oil

1

Tbsp.

coconut extract

1

tsp.

powdered stevia

1

tsp.

cinnamon

Pinch

of sea salt

Plain yogurt
Instructions
Preheat oven to 325 degrees F (163 degrees C). Spread cooked buckwheat groats evenly on a rimmed baking sheet and bake for 20 minutes, stirring after 10 minutes. Remove baking sheet from oven.

In a large bowl, combine buckwheat groats, unsweetened puffed millet cereal, nuts or seeds, unsweetened flaked coconut and flax seeds, stir to combine. In a small bowl, add oil, alcohol free coconut extract, powdered stevia, cinnamon and a pinch of salt, whisk to combine. Pour liquid ingredients over dry ingredients, toss to combine.

Spread granola mixture on baking sheet and bake until golden brown, about 20 minutes, stirring after 10 minutes. Remove granola from oven, cool. Serve with plain yogurt.

Granola can be stored in an airtight container for up to a month.
Looking for more gluten-free, sugar-free recipes? My Ultimate Candida Diet program contains more than 50 delicious recipes, plus lots of valuable advice on which foods to eat and avoid. Find out more here.